We can't say it enough. Our customers are the best. You make our day every day! It is a pleasure and an honor to work with you to make your facility sparkle with long lasting, stylish, and practical furniture. That is why we raise the standard in quality and service. University Loft customers are number one in our book. Here are some ways Loft makes things brighter for you.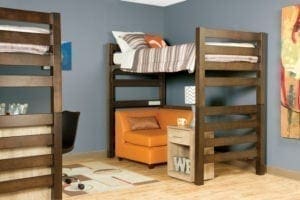 Opening Up a Room
Student rooms, studio apartments, defense quarters, and kids' rooms can be a little tight on space sometimes. Our modular furniture allows you to open floor space by stacking the furniture vertical in a seriously cool way. Here are some ways you can make room in a tight space.
Loft your twin bed and put a desk and chair beneath it.

Put your drawer chests under the bed allowing space for other things in the room like a wardrobe, chair, or both.

Our Tool-Less System makes it easy for you to change your room and reconfigure the furniture in a new form.

A Murphy Bed is a gorgeous sofa for waking use and a comfortable bed for sleeping.
Your Safety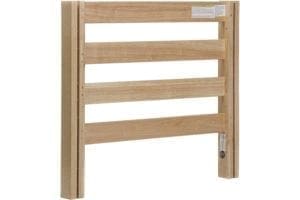 Your protection comes first. That's why we have gone above the standard safety regulations to ensure that each piece of ULC furniture gives proper security. From the distance between spreader rails on bed ends to guardrails on beds; from bunk bed ladders to flame resistant fabric, our products are manufactured to meet and surpass the standard.
Environmentally Friendly
Doing our part to serve the customer and be kind to our planet, we use eco-friendly materials in our furniture products. The wood used comes from the Hevea Brasiliensis tree. With beautiful grain and strength that beats the Northern Red Oak, these trees replenish rapidly and are used completely during their lifespan.
Whenever possible, we use recycled materials as well.
Fun Fact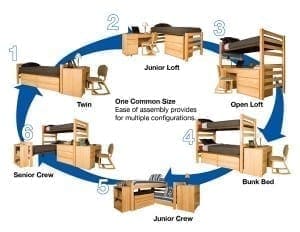 We have one common size bed but at least six ways to configure them. Get creative and have fun modulating the furniture your way.
Whether furniture is for a university, an apartment complex, a military base or a new development, our quality products are built with your needs in mind. University Loft customers are number one in our book!
To see more of our fine furniture pieces, stop by our catalogs. If you like what you see and want to know more, you can contact us here or give us a call at 800-423-LOFT (5638). One of our qualified Uloft representatives will be ready to help you.  We would love to do business with you. If you need something quickly, ask about our Quick Ship Program. We would love to do business with you.
University Loft Company is committed to producing top-quality furniture that provides the best value to you. Founder and owner, James N. Jannetides is the creative force behind University Loft Company. His vision for loft beds was only the beginning of the accomplishments done in contract furniture through this company.
Until next time ~ Ginger Bock