There are times when all you need is one or two items. A wardrobe, a desk, stackable drawer chests, or even a few chairs. Well, University Loft Company just might have what you need without a long wait that are stocked and ready to be shipped out. If you need something really fast with tremendously quick turnaround, you can contact your friends at University Loft Company and let them know what it is that you need.

The Graduate Series
Some of our stocked and ready items are from The Graduate Series. This solid wood series has proven time and again to be strong in quality and durability, and to outlast furniture from our competitors.
The Flat Iron Series
We also have products from The Flat Iron Series. The distressed-style metal and inset laminate tops go
with many settings. The sharp clean cuts of this series add modern features to a room. We have desks, flend tables, coffee tables, entertainment tables, and nightstands.
The Two-Position Chair
This classic piece is perfect as an added chair to a room or as a desk chair. It comes upholstered or wood based.
The Uptown Series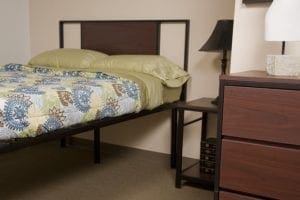 The cool metal legs and trim greet warm wood offering fashionable pieces from end tables to desks.
And There's More
We also have slat beds, headboards, dressers, chairs, bed ends, and entertainment centers. Let your Uloft representative know what you need.
Sometimes you need something really fast, and University Loft wants to be there to help you fill that need. You can find out more about our Quick Ship Program by contacting us here or giving us a call at 800-423-LOFT (5638). To see more of the fine furniture products we manufacture, browse our catalogs. We would love to do business with you.
University Loft Company was born in the heart of a college student for college students back in 1986 and has been a creative trail blazer in the contract furniture industry ever since. As founder and owner, James N. Jannetides says, "We're committed to producing top-quality furniture that provides the best overall value." That is what University Loft Company is all about.
Until next time ~ Ginger Bock