At University Loft, we love our customers. It is our goal to please you from the beginning to the end. You see, we don't just provide the best college university furniture that you can get, we enter a relationship with our customers. From the beginning to the end, we aim to please our customers. From the wood we use to making reconfiguration easy, we create student resident furniture that works and lasts.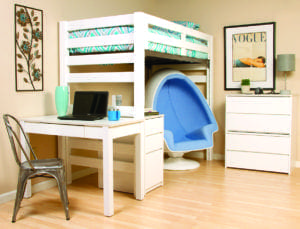 We Start with the Wood
Our strong wood comes from Environmentally Farmed Timber (EFT) or the Hevea Brasiliens tree. It is a most useful tree as it is tapped for latex through its life and when that production ends, it is hewn down and used for its wood. EFT is a hardwood with an attractive pattern lacing through it.
The Government Sector
ULC is a contract furniture provider for military housing as well.  Our Whole Room Concepts includes a variety of wall art, rugs, televisions, and bedspreads making each room a home-away-from-home.
State-of-the-Art Engineering Methods
When it comes to building furniture, University Loft never lacks. Our state-of-the-art engineering methods include corner blocks, English dovetail joints, Mortise and Tenon joint frames, solid wood bedposts, and full-extension glides and finger pulls for the drawers.
Stack It
Sometimes low to the floor bed works, sometimes raising it just enough to fit a couple of drawer chests beneath it works, yet sometimes lifting it all the way up to loft the bed and fit a full desk, drawer chests and a chair under it is exactly what you need. No matter your preference, our Tool-Less System™ allows you to change the height of your bed easily.
To see more of our quality furniture just have a look at our catalogs.  For more details, you can contact us or give us a call at 800.423.LOFT (5638). A University Loft representative will be happy to assist you. We would love to do business with you. If you are in a hurry, ask about our Quick Ship Program.
University Loft Company is a leader in the furniture industry and creates innovative furniture products for college campuses, apartment complexes and new developments, off-campus housing, and defense quarters. Founder and CEO, James N. Jannetides has a continual drive and determination, which is the force behind University Loft Company.  His example as an extreme visionary has been a wellspring of encouragement and inspiration to many.
Until next time ~ Ginger Bock
University Loft Company is growing and we're hiring. We are looking for good workers to become part of an excellent team. If you are interested or know anybody who would like to enjoy the experience and relationship of being a part of this growing contract furniture company, contact us here or call 800.423-LOFT (5638).