Nothing is more important than the peace-of-mind parents have knowing that their kids are safe when they are away at college. It is also important for college administrators to have the confidence that the university furniture they supply for their student residence is safe. University Loft Company believes that safety in residence life is at the top of the priorities list. It's good to know that campus safety rests easy with University Loft furniture. That is why we go above and beyond standard safety regulations when we build our products.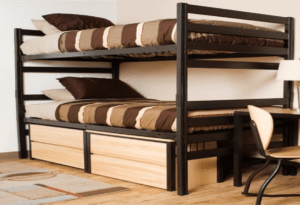 We use solid hardwood that is strong and proven to endure day-to-day hardships and then some. Our construction methods go the extra mile in durability with techniques such as corner blocks, English dovetail joints, and Mortise and Tennon joint frames (just to name a few).
As important as our construction methods are, we also place importance on the fact that our beds meet the U.S. Consumer Product Safety Commission (CPSC) Requirements regarding Child Safety Standards for entrapment and guardrail safety.
University Loft Company builds beds with bed end posts that are 3" x 3" offering greater surface-to-surface contact area. This causes greater sturdiness and stability. Unlike our competitors, we have four spreader rails. With that extra rail you have improved safety and resilience.
One of the benefits of University Loft furniture is the quick reconfiguration of the dorm room furniture and our Tool-Less System. It allows students to change around their furniture as they need safely.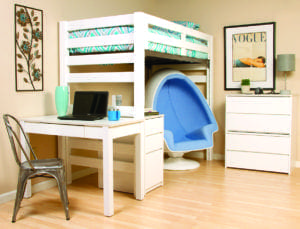 University Loft Company builds furniture that is safe and protective for students, which is why campus safety rests easy with University Loft.
Check out our catalogs to see more student residence furniture. If you have any questions, you can contact us here or give us a call at 800-423-LOFT (5638). One of our qualified Uloft representatives will help you. If you need something quickly, ask about our Quick Ship Program.
Founder and CEO, James N. Jannetides says, "We are a company with ethics. Integrity is more than a word. We manufacture furniture the right way." As a leader in the furniture industry, University Loft is honored to live by a high standard of ethics that continue to bring innovative ideas for university furniture, off-campus housing, apartment complexes and new developments, and GSA defense quarters to our customers regularly. 
Until next time ~ Ginger Bock               
University Loft Company is growing and we're hiring. We are looking for good workers to become part of an excellent team. If you are interested or know anybody who would like to enjoy the experience and relationship of being a part of this growing contract furniture company, contact us here or call 800.423-LOFT (5638).