I've always thought the Open Loft is a fun way to make a room interesting. It's not just the cool way it looks, but it's fun to climb to the top and look over your room from the highest spot, then you can lay back and study, play a game, check out your social media status, or whatever, all from the top of your loft bed. Actually, ULC's Open Loft concept is a pretty practical way of saving space while making your room fun. And why wouldn't it be? The idea came from a college student while in his dorm room. James Jannetides' notion of modular college furniture opened up many more creative ways to save space in student rooms and common areas.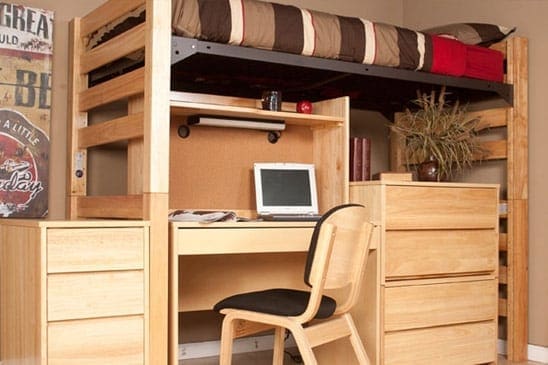 The Open Loft makes a tiny space seem bigger because we go vertical. With University Loft Tool-Less System™ it's easy. You just raise the bed ends up to loft height and you can place other furniture under the bed such as a desk and Two-Position chair or a loveseat and drawer chests. The other fun asset with the Open Loft is how creative you can get with a small space. If you want to change things up, you can do so in a few simple steps. The LOFT is the limit.
For added storage space include a wardrobe and drawer chests to your room. They will help keep your items organized. The full-extension drawer slides allow you to get to the back of the drawer with ease while the wardrobe doors rotate around at 270 degrees lying flat at the sides. University Loft makes life easy for everyone.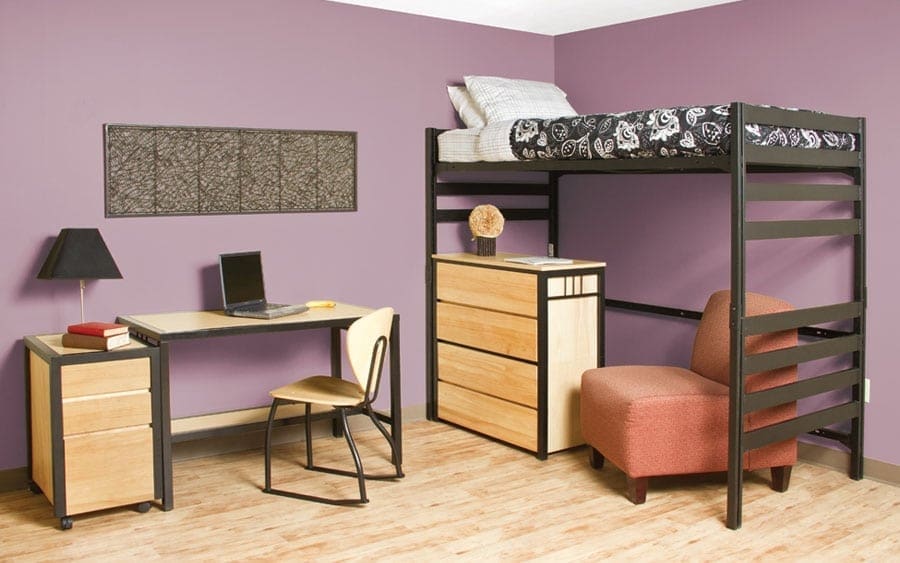 Our student residence furniture is built University Loft strong to last long. They are crafted to bear the years of use and resist more than everyday wear-and-tear of campus living. From the Environmentally Farmed Timber to the recycled steel we use, our college furniture is built with the high standards of quality and endurance.
See more of our college student furniture by having a look around our catalogs. You may have a question about something you see, if you do, contact us or give us a call at 800-423-LOFT (5638). One of our skilled Uloft representatives will be available to help you. If you need something in a hurry, just let us know, we can ship orders at short notice. We appreciate your business.
Founder and CEO, James N. Jannetides says, "We are a company with ethics. Integrity is more than a word. We manufacture furniture the right way." As a leader in the furniture industry, University Loft is honored to live by a high standard of ethics that continue to bring innovative ideas for university furniture, off-campus housing, apartment complexes and new developments as well as GSA Defense furniture to our customers regularly.
Until next time ~ Ginger Bock