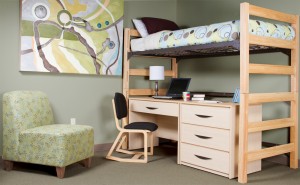 You climb to the top and hover above your world like a ruler making important decisions. It's all yours. You don't have to share it, and there's no one snoring beneath. This is the Open Loft you've dreamed of having from University Loft Company. It's another one of the great student resident furniture concepts of Uloft. Even if those important decisions you're making from atop your loft bed will only impact your world, you will do it with in comfort and style. There are a number of aspects that make the open loft bed and the college furniture pieces that go along with it cool. Let's talk about the Open Loft.
The Open Loft by ULC offers many ideal aspects to the student room. Included in each series is an elevated twin bed that leaves space beneath for other college furniture.
Ideal for Sleep
Of course it's ideal for sleep, there's a bed involved, and these beds are durable and comfortable. Depending upon the series, there is either solid wood or wood and metal blends. The post offers greater surface to surface contact for better durability. The bed end spreader rails are small for added security.
Ideal for Study
Even though a lot of times you might prefer studying on the top of your loft bed, there may be occasions when you just don't want to risk falling asleep in the middle of study, or you need to sit up at a work station. So you just need a desk. Now, I can't guarantee that you won't fall asleep at your desk (if you're flat-out tired, it's almost inevitable), but the Open Loft is a supreme place for study.
Ideal for Space Conservation
In the Open Loft, there is room beneath for a pedestal desk and 3 drawer chest. Because the desk and the chest are the same height, you are given much more space. If you are in a small area, the Open Loft is a perfect way to conserve on space and get the most out of your room.
Ideal for Living
That's right, the Open Loft is ideal for living. Not only do you sleep and study, but you also dream, create, and have fun. Add a sweet arm chair to chill in, and you have one awesome living area.
As you can see from the photos displayed here, the Open Loft has a variety of practical uses. To view more styles and series, check out our catalogs.
You might have questions, and that's great. A University Loft Company representative will be available to help. You can contact us or give us a call at (800) 423-LOFT (5638). For your convenience, we are able to ship orders at short notice. We appreciate your business.
Founder and CEO, James N. Jannetides says, "We are always learning, always innovating, and always improving…We are University Loft Company." As a leader in the furniture industry, we are living up to that quote and haven't stopped with state-of-the-art ideas in not only university furniture, but also off-campus housing, apartment furnishings and military housing.
Until next time ~ Ginger Bock