Thank You
On this day that we stop to recognize veterans who served and are serving in the armed forces of the United States, University Loft Company would like to say THANK YOU, VETERANS.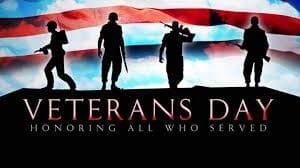 Every November 11th, the USA in respect of the eleventh hour of the eleventh day of the eleventh month of 1918. That was the day that heralded the end of World War I. It was known as Armistice Day, but in 1954 President Dwight D. Eisenhower officially dubbed it Veterans Day.
This day we celebrate all veterans of all wars. We can't say it enough: THANK YOU, VETERANS for your sacrifice and service.
Fun Fact
There were 16 million Americans who served in World War II and in 2021, 240,000 were still living.
James Quote
Founder and owner of University Loft Company, James N. Jannetides, has a special place for Veterans, his father served in the Korean War. He said, "Veteran's Day 2021 We at University Loft are honored to acknowledge our Veteran's! Please take a moment to Thank all our Veteran's for their service."
Thank you ~ GB