University Loft Company began with an idea in the heart of James Jannetides. An idea of a loft bed to be exact. A loft bed that would fit remarkably in a student residence housing and allow college students greater amounts of space in their dorm rooms. This notion of modular student housing blossomed into the array of unique ways to save space in college rooms. When space is limited, University Loft has the answer with space saving modular furniture.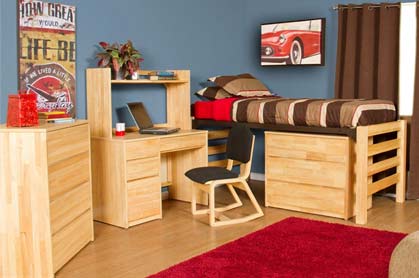 Space saving has always been an indispensable part of University Loft Company. Rooms can be arranged in a variety of styles that are befitting of its size and the furniture in it. Since the bed ends are adjustable and University Loft created a Tool-Less System™, the height of the bed can be adjusted with simple moves and without the aid of tools. Instead of bulky furniture taking up all the space in the student residence where one has only a small pathway to get from one side to the other, University Loft furniture opens the floor. You can raise a twin bed up to a junior loft allowing a couple of drawer chest to fit under the bed. You can raise them up even higher to an open loft and place a desk and chair with some drawer chest beneath it. With extra space, you can include an entertainment center and extra chairs. The possibilities are limitless.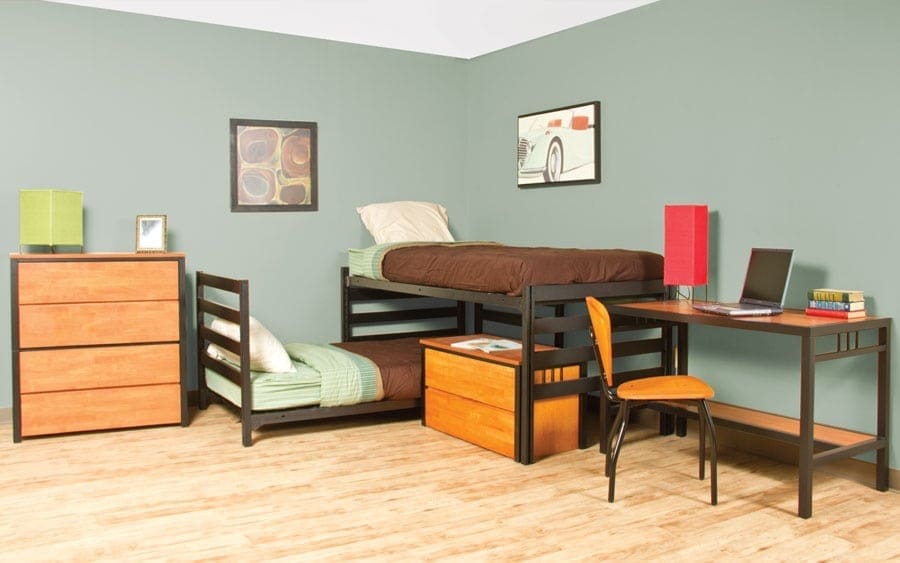 Stack bunk beds in the standard manner or arrange them in ways that will better suit the room and the space. From our solid wood lines, University Loft manufactures 3" x 3" bed ends posts. From our steel and wood blend lines, the metal bed ends have four adjustable slats. These bed ends can also double as ladders and make the climb up to the top simple.
Whether you have bunk beds or loft beds, University Loft builds them strong with quality and durability for your student residence.
See more of our college student furniture by having a look around our catalogs. You may have a question about something you see, if you do, contact us or give us a call at 800-423-LOFT (5638). One of our skilled representatives will be available to help you. If you need something in a hurry, just let us know, we can ship orders at short notice. We appreciate your business.
Founder and CEO, James Jannetides says, "We are always learning, always innovating, and always improving…We are University Loft Company." As a leader in the furniture industry, University Loft is living up to that quote and hasn't stopped with innovative ideas in not only university furniture, but also off-campus housing, apartment furnishings and military housing.
Until next time ~ Ginger Bock