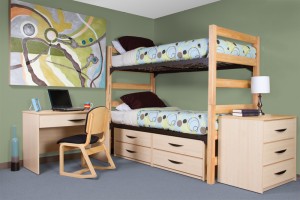 Weren't bunk beds the coolest when you were a kid? If you didn't have one, you wanted one. Just the concept of being able to climb to the top or snuggle into the bottom was exciting and adventurous. For parents they were great, they save space in smaller areas. Well, bunk beds are still the coolest and the Makers of Cool offer ones that are space saving, durable, versatile. Let's talk about bunk beds.
Being immersed in student residence life is already a great experience. Now add to that quest bunk beds from University Loft and you have an awesome partnership. Additionally, our bunk beds are ideal for apartment furnishings. Depending upon the series, the bunks can be solid wood or metal and laminate. Stop by our catalogs to see what you like the best.
Here's some cool things about bunk beds from University Loft
Constructed for Long Life
Bunk beds from University Loft are built durable to take on daily use and the hardships that go along with them year-in and year-out in the student residence or the apartment furnishings. From practical joking (caught on the cell phone video and posted online) to accidents, they are built to withstand.
With 3 x 3 full track bed posts for the wood beds. The wood beds are made with 3 x 3 full track bed posts. The metal ones have 4 slats and adjustable height settings.
Ease of Assembly
With simple instructions and simple to maneuver pieces, Uloft bunk beds can be put together stress-free. Assembly is as easy as 1-2-3.
Space Saving
Items are easy to collect and a lot of personal possessions can pile up and clutter a room. ULC bunk beds are a space saving attribute. Our beds rise to allow drawer chest to fit beneath. The beds also configure to fit the room type so they don't have to stack on top of each other as demonstrated in the picture below. With the many ways to reconfigure the bunk beds, you will have fun tapping into your creativity.
We are dedicated to our product line, which is what sets us apart. You may find that you have questions concerning bunk beds or other furniture products in your facility, no problem, we're here to answer your questions. You can contact us or give us a call at (800) 423-LOFT (5638). For your convenience, we are able to ship orders at short notice. We appreciate your business.
University Loft Company is a leader in the furniture industry and continues to create innovative products for universities, off-campus housing, apartment furnishings, multi-family units and military housing. Founder and CEO, James N. Jannetides' continual drive and determination is the force behind University Loft Company. His example as an extreme visionary has been a wellspring of encouragement and inspiration to many.
Until next time ~ Ginger Bock