You want furniture with strength? You want furniture that will last for years? You want to know that the next bunk beds put in your facility are useful, durable, and look amazing. Whether for Enlisted military or student furnishings, the Solid Wood Series from University Loft Company comes from potent, eco-friendly hardwood and is built for endurance. The Enlisted Solid Wood Bunks are crafted like a powerhouse.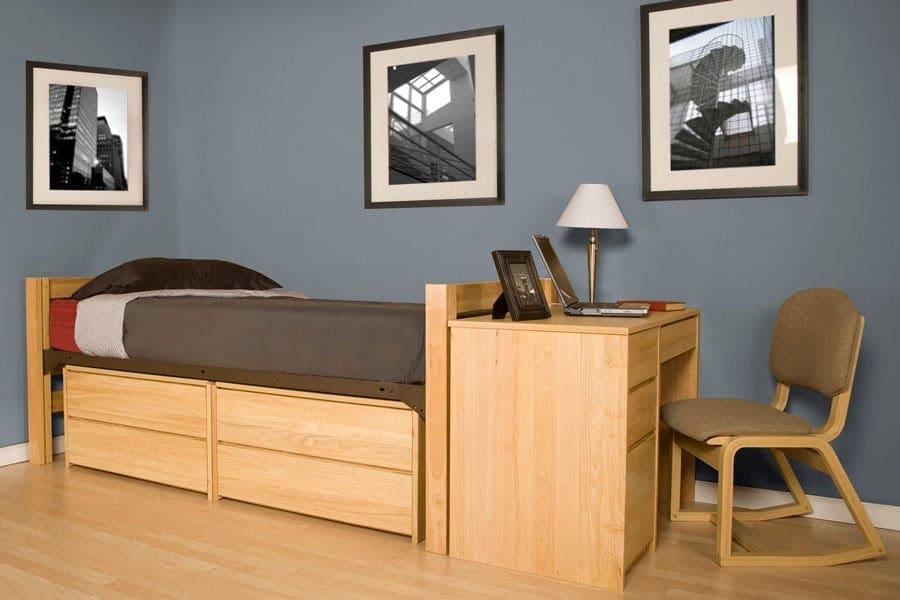 The Hardwood
Using hardwood from the fast-growing Hevea Brasiliensis not only ensures a strong product, but also helps the environment as these trees replenish quickly and are useful throughout their lifespan. And their strong. In independent testing, Hevea Brasiliensis is proven stronger than Northern Red Oak. That is why it's the choice wood for University Loft to build furniture like a powerhouse.
Modular Design
Student residences are not the only places that can enjoy University Loft Company's solid wood modular design. They fit right into any enlisted room.
Bunk beds don't always have to be set traditionally, move them around to best fit the area. Modular furniture moves for you. You can also take full advantage of maximizing your storage and getting more out of your floor space.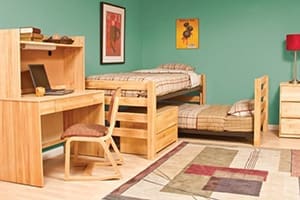 Tool-Less™ Wonder
You can change the bed's height with ease and without tools when you use our Tool-Less System™.  If you get tired of the way your room is set, this allows you to change your furniture easily. You know how fresh you feel after shifting the furniture around in a room, well our Tool-Less System™ helps you get that fresh feeling.
If you go to our catalogs, you will see more GSA Defense Furniture in addition to other products we manufacture. If you have any questions, contact us here or give us a call at 800-423-LOFT (5638).  A Uloft representative will be ready to help you. If you need something in a hurry, ask about our Quick Ship Program. We would love to do business with you.
"I wanted to extend a message of appreciation while either welcoming you to University Loft Company for the first time or welcoming you back. Since 1986 University Loft Company has been committed to serving our partners with superior products and services. Since the company's start in a residence hall at Southern Illinois University by the founder, James Jannetides, to where we are in 2021 with the state-or-the-art HQ /  Factory in Morristown, TN with global partners and offices, the vision and practice is still in place, always learning, always innovating, always improving." –Jeff Carlson, president—University Loft
Until next time ~ Ginger Bock