Loving the environment has always been a primary function of University Loft Company. Our plan is green, and we're sticking to it. In fact, every year on Arbor Day, we invite high school kids to come out and plant saplings on the ULC grounds in Greenfield, Indiana. It's so much fun. They get a tour of the LOFT facility from non-other than the CEO and founder, James Jannetides, then get to go play in the dirt and plant some trees.
Because we care about our natural world, the solid wood used in our university furniture is eco-friendly. It is known as Hevea Brasiliensis, we often refer to it as Environmentally Farmed Timber (EFT). Classified as hardwood, it has been proven to be stronger than Northern Red Oak. With grain that looks like natural oak, the beauty of this species is it grows five times faster than oak trees. University Loft chooses to not only use a superior material for our college furniture, but also one that has been classified as safe by the EPA.
When you purchase college student furniture from University Loft, you are getting supreme products: solid wood with a solid green plan. Our plan is green, and we're sticking to it.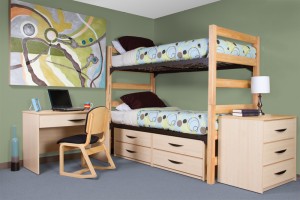 To learn more about our Environmentally Farmed Timber and college student furniture, have a look at our catalogs. You can contact us or give us a call at 1-800-423-LOFT (5638) with any questions. We want your business and are ready to ship at short notice. University Loft Company has something that is perfect for you.
University Loft Company is a leader in the furniture industry and continues to create innovative products. Founder and CEO, James N. Jannetides' continual drive and determination is the force behind University Loft Company. His example as an extreme visionary has been a wellspring of encouragement and inspiration to many.
Until next time ~ Ginger Bock