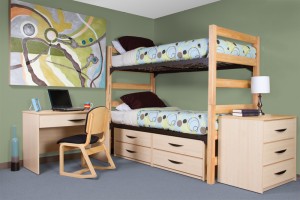 I knew a wise old woman named Mable who always offered advice that would steer a person from making a costly mistake. Mable always said, "Giner," she always left out the second "g" in my name. "Fake is fake no matter how pretty you dress it. Be wise as a serpent and harmless as a dove, and don't be fooled by a look-alike." That saying rings true when it comes to college student furniture.
There are many counterfeits out there. Don't be fooled by a dazzling picture of student resident furniture that looks like University Loft but isn't. We are flattered that some competitors copy our look, but if they aren't sturdy and don't last, in the long run, that does not help you. Nothing comes close to the enduring, extremely strong, high quality student furniture manufactured by University Loft Company. Whether we use recycled steel or solid wood, we produce furniture that is powerful and bears daily wear and tear for generations. We commit to deliver extraordinary university furniture and develop a long-term relationship with you.
When it comes to campus housing, don't be fooled by a look-alike, make sure your choice is from a leader in the furniture industry, University Loft Company. Like the relationship we have with our customers, our quality university furniture is built to last.
Have a blast as you take a tour through our catalogs. We would love your business and are ready to answer any questions you have. You can contact us online or give us a call at 1.800.423.LOFT (5638). Remember, we ship at short notice.
"While our competitors draw copies of our furniture and call it their own, we bring you the real deal." Says founder and CEO, James Jannetides. University Loft Company blazes new and exciting trails with innovative products as a leader in the contract furniture industry.
Until next time ~ Ginger Bock