Gotta love irony, right? Here we are, University Loft — an American company that specializes in making it easier for college students to live, learn and rest easy — and we never get to rest! But don't worry; it's not really a burden (and we try to avoid becoming sleep deprived). It's more like a mission to us. You see, at University Loft Company, we always strive to be at the forefront of student housing furniture design and innovation.
It's been that way since the beginning, when our founder James Jannetides built his first student residence loft to make his own college life a little easier. By elevating the beds in his dorm room, he managed to create the space needed to more effectively study, sleep and live a more fulfilling university life. When other students saw what James had done…well, let's just say the genie was out of the bottle. Soon enough, James had outfitted some 400 rooms at Southern Illinois University, and University Loft Company was born.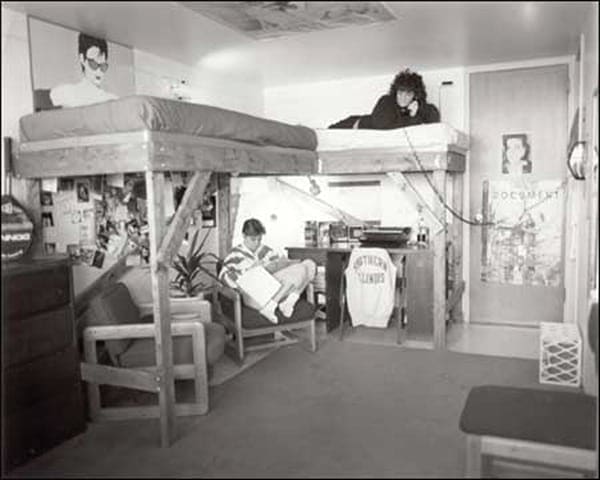 Some people might stop there, to, um, rest on their laurels. Not James. He kept on innovating and growing the company, creating ever better space planning solutions for college and university student housing. He made the student housing furniture modular, so it could be configured to suit the needs of individual students and the dorm room space. He made sure the furniture was built from the strongest solid wood that was also environmentally friendly. And he made sure that the strongest construction techniques were utilized so the student residence furnishings would continue to withstand the daily rigors of student life.
Along the way, James Jannetides has even been awarded several patents for ULoft design innovations.
Think it's time for University Loft to take it easy and rest on our past successes? Think again! We are always listening, always observing and always innovating. We never rest…because we want to make sure that college and university students have the best modular furniture for the best overall on-campus student housing experience. (What can I say? This tireless commitment to excellence is in our DNA!)
Want to learn more? Contact us today. We might just have something new to share with you!
Bob
The ULoft Blog Team
About University Loft Company and our solid wood modular residence life furniture:
Since 1984, when James Jannetides built a loft configuration for his own dorm room at Southern Illinois University, hundreds of thousands of college students have enjoyed better campus living thanks to University Loft furniture. Today, University Loft serves more than 1,200 colleges, universities and related student housing partners. As Jannetides' says: "We are always learning, always innovating, and always improving … our environment, our products, and our service. We are University Loft Company."