Wall Bed, Pull Down Bed, Fold Down Bed, or the Murphy Bed. It's known by many names. Whatever you call it, this bed works for any tiny spaces. The Makers of Cool have created a Murphy Bed that is a winner for any small living areas.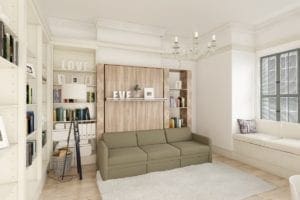 Years ago, this pull down bed was built out of necessity when William Lawrence Murphy (1876–1957) trying to win the heart of an opera singer. However, it was quite inappropriate to bring her up alone in his one-room apartment where the bedroom and the living room were basically the same. In order to bring her into his home scandal-free, he invented a bed that could be folded into the wall making it quite acceptable to entertain a lady in his apartment. In the early 1900s, the invention was patented. This ingenious way of courting an opera singer has become a resourceful way for University Loft Company to help you save-space in small areas.
During the waking hours, the University Loft Murphy Bed folds up and becomes a beautiful part of the wall and extends into a sofa. So, it doesn't just hide against the wall when it's not in use. It is a working part of your living area all the time. When it's time to sleep it pulls down into a bed welcoming you to a good night's sleep.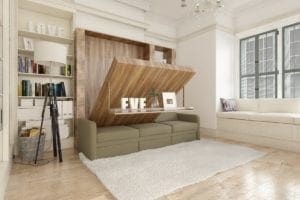 Our Murphy Bed is not just any old bed, though. It is built University Loft strong to last long with state-of-the-art engineering methods. Like all our furniture, we go the extra mile to ensure a durable product with superb craftsmanship.
To get detailed information on University Loft's Murphy Bed, talk to one of our qualified representatives by contacting us here or giving us a call at 800-423-LOFT (5638).
We have lots more furniture products perfect for universities and colleges, off-campus housing, new developments and apartment complexes, and military housing. Have a look at our catalogs to see more. We would love your business. Let us know if you need something in a hurry, we have a Quick Ship Program that just might fit your needs.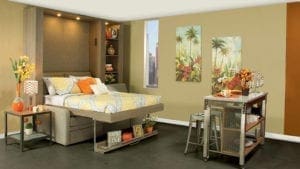 University Loft Company is a leader in the furniture industry and creates innovative furniture products for college campuses, apartment complexes and new developments, off-campus housing, and defense quarters. Founder and CEO, James N. Jannetides has a continual drive and determination, which is the force behind University Loft Company.  His example as an extreme visionary has been a wellspring of encouragement and inspiration to many.
University Loft Company is growing and we're hiring. We are looking for good workers to become part of an excellent team. If you are interested or know anybody who would like to enjoy the experience and relationship of being a part of this growing contract furniture company, contact us here or call 800.423- LOFT (5638).
Until next time ~ Ginger Bock