Do you ever feel claustrophobic in your student residence? Further, do you ever look around your dorm room and heave an exasperated sigh because you have no space? Founder of University Loft Company, James Jannetides, also knew that feeling when he was a college student, and he did something about it. He worked on developing modular college furniture that would allow students to get the most out of their space. Thus University Loft Company was born and began creating innovative student housing furniture that would help make campus living amazing. We know about saving room, and when space planning is needed, University Loft is a must. You can reconfigure our student furniture in a variety of ways that allows you to get the most out of you room. For example, you can raise your twin bed up off the ground high enough to set your desk and drawer chests underneath it. Bunk beds can be stacked, crisscrossed, or angled to open up space and let you breathe again. Our Tool-Less System™ makes it easy to do too.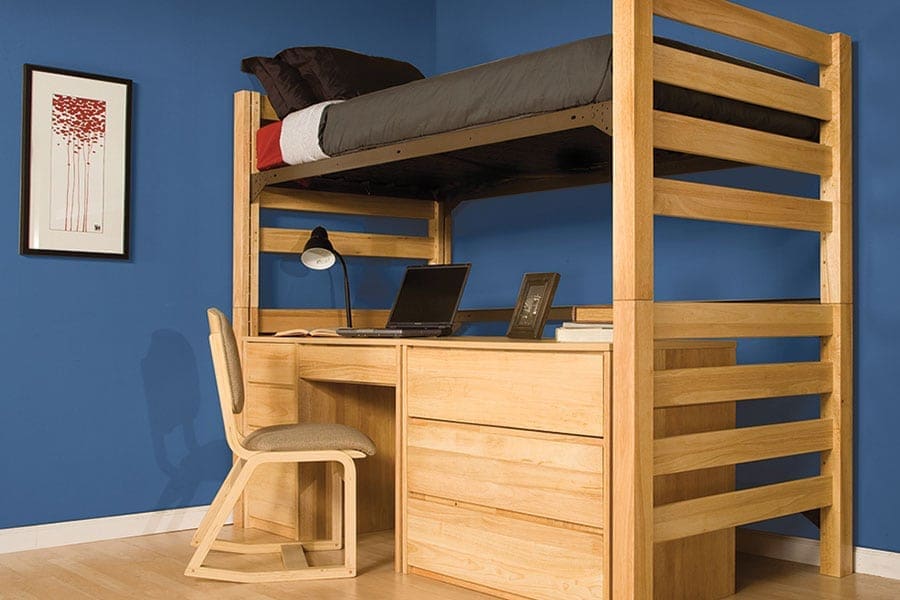 College furniture from University Loft is made from Environmentally Farmed Timber (EFT) and recycled metals whenever possible. The EFT comes from Hevea Brasiliensis trees. This wood has been independently tested and proven stronger than Northern Red Oak. University Loft furniture is a powerhouse of quality and strength. Whether your dorm furniture is from a solid wood series or a wood and metal blend series, you are getting durable, long lasting products built University Loft strong. It easily endures the hardships of daily use.
Just think of it, your room is filled with quality university furniture, you can get around with ease and you have plenty of storage to boot. So, don't settle for a cramped room that makes studying difficult and moving around little to be desired. We're the right choice in college furniture in part because when space planning is needed, University Loft is a must. Choose ULC today!
To see more of our quality student housing furniture, have a look at our catalogs. If you see something you like or have a question about any of the products, you can contact us or give us a call at 800.423. LOFT (5638). Your business is important to us, so there is always a friendly University Loft representative ready to help you. We can ship orders at short notice.
As a leader in the furniture industry, University Loft Company continues to create products that befit the needs of universities, off-campus housing, apartment complexes, and military housing. CEO and founder, James N. Jannetides has an infectious positivity about him that helps drive University Loft to develop more innovative products. His wisdom is admirable, and his vision is one to get behind and follow. He has been a wellspring of inspiration and encouragement to many through the years.
Until next time ~ Ginger Bock