Even though it's not as common these days for the doctor to make a house call, or for the milk man or Avon lady to ring your doorbell, you can still find enterprising businesses willing and happy to load up their wares and visit you on your turf. Case in point: University Loft Company and our mobile showroom of solid wood furniture for college and university student housing.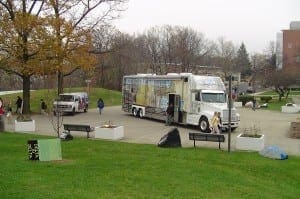 Sure, you can see images of our university housing products on our website or print publications. And yes, we can blog and brag about how stylish, strong, durable and functional our college dorm room furnishings are. But at University Loft, we know that seeing is believing. That's why we created our mobile showroom. Once you step inside and see our modular furniture for dormitory rooms up close and personal, you'll know firsthand what hundreds of thousands of students in more than 1,200 colleges and universities have discovered: ULoft furniture makes university living more comfortable and functional.
Naturally, we can't fit everything we'd like inside our mobile showroom (it's a BIG truck, but never big enough), but we can give you a glimpse into what makes University Loft dormitory furniture one-of-a-kind: ergonomic, customizable modular designs built from environmentally farmed solid wood, in a wide variety of available fabrics and wood finishes.
So if you want to see University Loft's latest products that will be perfect for your university housing environments, contact your ULoft representative today. We love making house calls to America's colleges and universities!
Bob
The ULoft Blog Team
About University Loft Company and our solid wood modular residence life furniture:
Since 1984, when James Jannetides built a loft configuration for his own dorm room at Southern Illinois University, hundreds of thousands of college students have enjoyed better campus living thanks to University Loft furniture. Today, University Loft serves more than 1,200 colleges, universities and related student housing partners. As Jannetides' says: "We are always learning, always innovating, and always improving … our environment, our products, and our service. We are University Loft Company."