Limbo contests can be so much fun. Until you fall on your back and have to exit the competition – oh, how embarrassing. Every time the bar is lowered, it becomes harder to scoot under it. A limber spine and some awesomely strong quads is what's needed to win one of those contests. Where the limbo bar is lowered to see who performs the best, we do just the opposite. University Loft raises the bar to produce the highest quality college furniture, military housing, apartment furnishings and off-campus housing.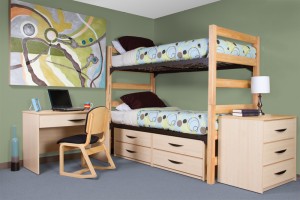 We value our customers and strive to offer you the best. Innovation is ongoing at ULC. We endeavor to provide outstanding resident hall furniture for our customers. Here is a great example: our metal drawer boxes are integrated with heavy duty slides. This makes them stronger and last longer. Another excellent example are features such as the high performance engineered wood casegood construction, high pressure laminate tops, and PVC edge banding. Our furniture is crafted with paramount attention to detail. It also has a reputation for being long lasting, durable, comfortable, green-friendly and ergonomically constructed. University Loft raises the bar to produce the highest quality furniture, because our customers are worth it.
You can also see more of our fine university furniture, military housing, apartment furnishings, and off-campus housing by taking a look at our catalogs. Have a blast as you browse! We want your business. If you have any questions, please contact us or give us a call at 1.800.423.LOFT (5638), one of our qualified sales representatives will be available to help you.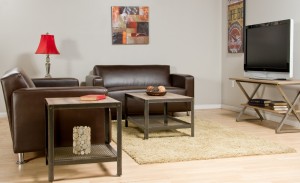 Founder and CEO, James Jannetides says, "We are a company with ethics. Integrity is more than a word. We manufacture furniture the right way." As a leader in the furniture industry, University Loft is honored to live by a high standard of ethics that continue to bring innovative ideas for university furniture, off-campus housing, apartment furnishings and military housing.
Until next time ~ Ginger Bock