When it comes to furnishing campuses with student housing furniture, there should be certain qualities required. A high standard should be expected. It must be durable as well as functional. Its appeal should be as excellent as its strength. It should have reconfiguring capabilities. University Loft college furniture is all that and more!
It's Durable
College furniture from University Loft is made from Environmentally Farmed Timber that grows from the Hevea Brasiliensis tree. In independent lab tests, this wood has been proven stronger than Norther Red Oak. Hevea Brasiliensis trees also grow faster than the Northern Read Oak, which is why our wood is Environmentally Farmed Timber. It's great for our environment.
Our furniture can endure the everyday wear and tear that students put it through. We test the furniture with the Janka hardness test. This measures the force required to embed a .444 inch steel ball into half its diameter of wood. Our furniture passes the test!
It's Functional
From loft beds to desks, from Two-Position Chairs to wardrobes, our furniture is built to function for the purpose of the students and their needs.
It's Modular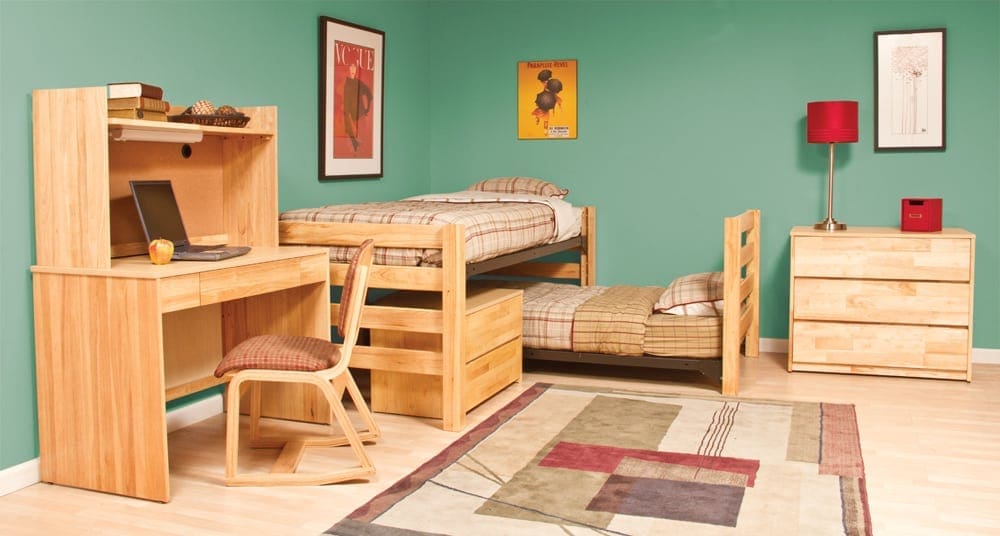 Space is important. University Loft furniture is space-saving and has reconfiguring capabilities. Whether a twin bed needs to be lifted off of the floor to make room for drawer chests to be placed under it, or lifted even higher to put the desk and drawer chests under it, we have made that not only possible, but even easier. Our Tool-Less System™ allows you to modulate the beds without the need of tools.
You can also create a variation of ways with bunk beds. Let your imagination run wild. ULoft furniture is modular, innovative and simple to reconfigure.
It's Appealing
You can take an empty dorm room, fill it with University Loft furniture, and you will have a picture perfect room students will love coming back to. No matter how you arrange our dorm furniture, it looks good.
Durable, functional, modular and appealing, University Loft college furniture is all that and more!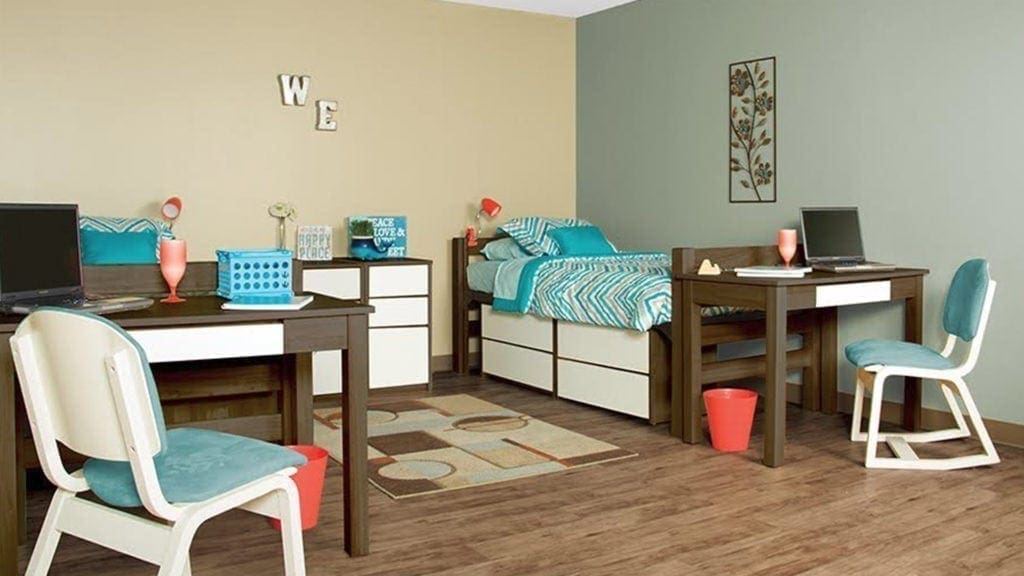 We want your business and are ready to answer any question you might have. You can contact us or give us a call at 1.800.423.LOFT (5638). A skilled University Loft representative will be available for you and can lead you to the dorm room solution that is just right for you. We are always ready to ship your order and can do so on short notice. Would you like to see more of our fabulous lines of university furniture? Just stop by our catalogs and take a look around. We are sure that University Loft Company has something for you. We thank you for your business.
University Loft Company is a leader in the furniture industry and creates innovative furniture products for college campuses, apartment complexes, off-campus housing and defense quarters. Founder and CEO, James N. Jannetides has a continual drive and determination, which is the force behind University Loft Company. His example as an extreme visionary has been a wellspring of encouragement and inspiration to many.
Until next time ~ Ginger Bock