Besides amazing strength and hidden storage for optimal space saving, the GSA Lift Bed includes security structures built right in the bed. Just like the student residence furniture, this Lift Bed is made from our Environmentally Farmed Timber (EFT) which comes from the Hevea Brasiliensis tree, an extraordinarily strong wood. You can bet this is more durable than particle board and will certainly outlast particle board furniture. Even more impressive is the many feature on the GSA Lift Bed from Uloft.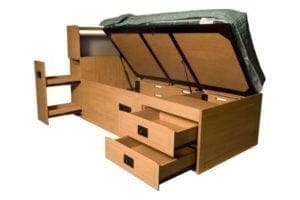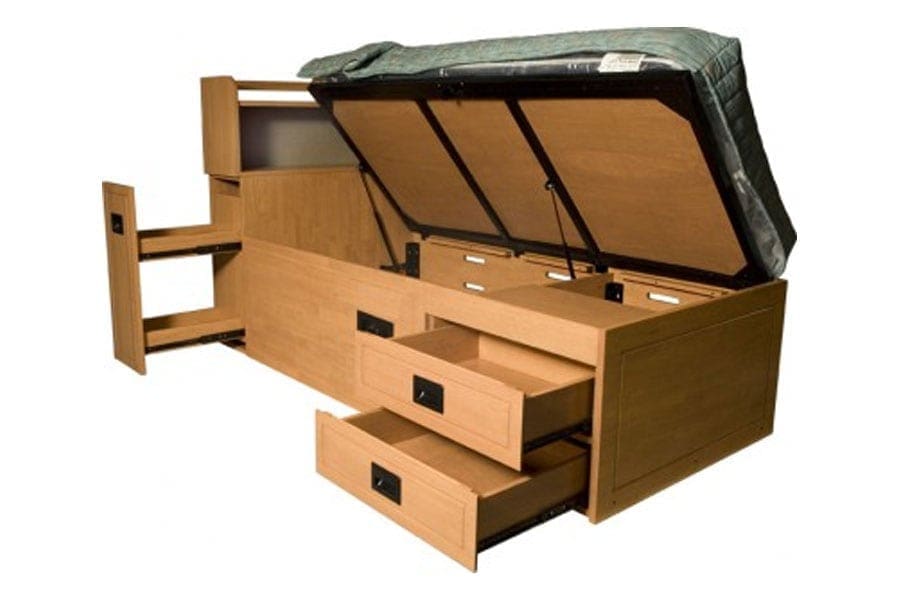 First you have the bed—a great place to sleep, but it's much more than that. Let's talk about the 782-B Lift Bed. 
It has an extra-long sleep surface with a mattress that includes the latest European slat cross members that flex when weight is applied to the surface. Two gas-filled cylinders assist the bed mattress and underlying frame top to raise. That's so super space-age. Beneath the mattress and frame you have storage room. Go ahead and put your gear in there. It will hold it. At the bottom of the bed are three full-extension drawers with heavy-duty glides. To help you keep your items in order, these drawers include dividers. The long solid wood panel is supported by an iron frame and delivers a secure lid with a durable four-way military grade locking handle and padlock eyelet. Your belongings will be safe in there.
Do you like to read at night before shutting off the lights and entering Z-land? The 782-B Lift Bed's headboard includes a bookshelf with task lighting and electrical outlets. That's not all, there is a fabric-covered tack board. You can pin special notes, mementos, photos, and other items you want before your eyes. Another storage shelf pulls out to hold more books or larger objects you need to store.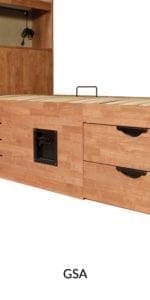 Surround the bed with a nightstand, lounge chair, wardrobe, and wall art. Your room will be epic.
To see more of GSA Defense Quarters furniture, browse our catalogs. If you have any questions, you can contact us here or give us a call at 800-423-LOFT (5638). If you need something quickly, ask one of our reps about our Quick Ship Program. We would love to do business with you.
University Loft Company is a leader in the furniture industry and creates innovative furniture products for college campuses, apartment complexes, off-campus housing and defense quarters. Founder and owner, James N. Jannetides has a continual drive and determination, which is the force behind University Loft Company.  His example as an extreme visionary has been a wellspring of encouragement and inspiration to many. 
Until next time ~ Ginger Bock