After a long hard week, what is the one thing you would love to do? Rock climbing? Sky diving? Unicycle racing? Sure if you love to get your adrenaline fired up – go for it. But after a long hard week, you probably feel like relaxing. How about a weekend getaway, say the southwest or northwest or the tropics! Well, if going on a journey is a bit far reaching, why not take a nice relaxing trip to the common area or the living room with LOFT's stylish furnishings . Let's take a look at the Interlude Series.

The Interlude Series has several pieces that can be configured and reconfigured. There are armless, right and left one arm sections and corner parts – you combine them and arrange them to make your area exactly how you want it. University Loft offers hundreds of fabric patterns to choose from. Because we use Velcro® technology the covers can be easily cleaned. The Interlude Series has so many different types of set ups that you can have fun changing and rearranging the furniture.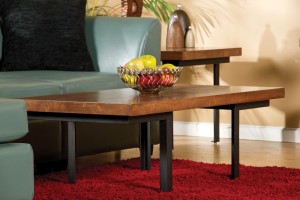 So you're not upset that you can't go on a weekend getaway to the southwest or the tropics because the Interlude Series has aided you in a personal getaway. Imagine yourself not having to get up and rush off somewhere. Instead, you pour yourself a cup of coffee and relax on this attractive sofa. You could read a book, surf the internet or meet some neighbors. Of course, you will need and end table to set your mug on and a coffee table to lay your book down. The Butcher Block Series from University Loft Company offers the strength of steel and the natural beauty of solid wood.
Whether you're rock climbing, sky diving, unicycle racing or traveling, you'll enjoy it more knowing that you will be returning to the comfort of LOFT's furnishings.
To see the variety of student furniture, apartment furnishings, off-campus and military housing we have to offer, take a look at our catalogs. If you have any questions, one of our qualified University Loft staff members is ready to help you. Just give us a call at 1-800-423-LOFT (5638) or contact us online. We not only want your business, we want your furniture shopping experience to be a pleasurable one.
Founder and CEO, James Jannetides says, "We are always learning, always innovating, and always improving…We are University Loft Company." As a leader in the furniture industry, we are living up to that quote and haven't stopped with innovative ideas in not only university furniture, but also off-campus housing, apartment furnishings and military housing.
Until next time ~ Ginger Bock