We love spring especially after a long winter, and our cold season seemed to have extended past its welcome this year. Now green fields are starting to peek out all over the place as spring showers and warmer temperatures have finally arrived. We love seeing the grass turn from dormant brown to bright green. It's refreshing, and University Loft Company's Greenfield Series is springtime fresh dorm room furniture.
Let's take a look at a couple of configurations within the Greenfield Series.
Like any of these great creations of resident hall furniture, The Greenfield Twin Bed is space saving. You can place the two drawer chest side by side under the bed to get optimal space for the room that you have. Throw in a writing desk and Two Position Chair and you are good to go. Now, that's some good-looking college furniture.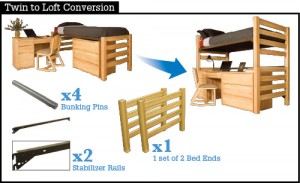 You will find not only strength and high quality in the Greenfield Junior Loft, but also flexibility. With our tool-less system, you can easily make the loft bed into a twin. The three drawer chest slides under the bed with the pedestal desk placed next to it, and you have the Greenfield Junior Loft.
The Greenfield Series is springtime fresh dorm room furniture. It's high quality, versatility, is undeniable. University Loft Company is the practical choice in student housing furniture.
You can contact us, or you can give us at 1.800.423.LOFT (5638). We would love to answer any questions you might have. To see more of our fine university furniture, take a look at our catalogs. We are sure that University Loft Company has something for you.
Until next time ~ Ginger Bock
University Loft Company is a leader in the furniture industry and continues to create innovative products. Founder and CEO, James N. Jannetides' continual drive and determination is the force behind University Loft Company. His example as an extreme visionary has been a wellspring of encouragement and inspiration to many.