As I look out the window, I see those unmistakable signs of autumn: yellow, orange and red leaves I've raked into piles or that remain scattered on the ground (meaning I still have work to do). Ironically, the fact that the leaves have abandoned their green color reminds me that University Loft continues to be a leader in the "green" manufacture of college furniture. We are green 24/7/365. You might even say we are "evergreen".
You see, at University Loft, we first made a commitment to being green in 1999; and our Green Plan impacts how we do business and how we serve our college and university clients every single day.
How does our commitment to being green work? For starters, in our solid wood furniture we use Environmentally Farmed Timber, or EFT, in the form of Malaysian hardwood. These trees, known as Hevea Brasiliensis, or HB, are a type of rubber tree, that grows quickly so it can be harvested and replanted in a mere 20 years – three times faster than oak trees.
Better yet, HB trees produce a natural form of latex that is tapped from the trunk of the tree during its life cycle and used in the production of rubber. These dual purposes mean more productive use of the HB trees as they grow and after harvesting. That's good for the environment.
University Loft Company is also committed to reforestation. In fact, we've planted more trees than we've harvested, so this, too, is a net gain for our environment. We even make it a point to plant trees on Arbor Day, and already have hundreds of new trees to our (and more importantly, to our environment's) credit.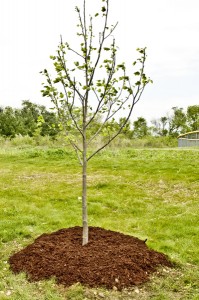 We do little things along the way, too, that help our environment — like recycling the cardboard containers that protect our milled timber during shipping to our American manufacturing facilities. We break down and reuse this cardboard packaging to protect the finish and corners of our finished furniture as we ship our top-quality dorm room furniture to colleges and universities across America and around the world.
Yes indeed, it's good to be green (and when the leaves are green, I don't have to get out the rake)!
Bob
The ULoft Blog Team
About University Loft Company and our solid wood modular residence life furniture:
Since 1984, when James Jannetides built a loft configuration for his own dorm room at Southern Illinois University, hundreds of thousands of college students have enjoyed better campus living thanks to University Loft furniture. Today, University Loft serves more than 1,200 colleges, universities and related student housing partners. As Jannetides' says: "We are always learning, always innovating, and always improving … our environment, our products, and our service. We are University Loft Company."