The right items in a student room is a must! To keep your room in tip top shape, you will need to make sure you have the right things with you at your home-away-from-home. Here are some must haves in your dorm room.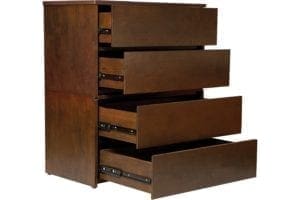 You Must Have Clothes
It's the law. With a variety of clothes, you need somewhere to put them. University Loft Company has drawer chest made perfect for storing your clothes. They have deep drawers constructed with English dovetail joints for extra strength. They also have full extension drawer glides offering up an easier way to get to your clothes. They come in solid wood or wood and metal blends.
Some clothing needs to be hung, so add a wardrobe with a hanging rod. It's awesome for grabbing those pieces that you want to get to quickly or don't want smashed beneath other items.
You Must Have a Mattress Pad
You know because sometimes you sit on your bed and spills can happen. If an unfortunate incident like that takes place, a pad will help protect your mattress.
Did you know that University Loft Company offers mattresses too? We have a program to help you get the most out of your mattress.  Ask a rep for details.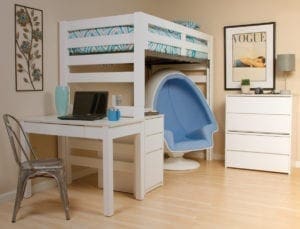 You Must Have Floor Space
You will need extra room for items that you will set on the floor like your desk, throw rugs, scales, and stuff like that. Thankfully, our modular furnishings are magnificent. You can stack beds and drawer chests to give yourself more floor space.
Fun Fact:
Raise your twin bed off the floor so you can put your drawer chests underneath to save space. It's super simple and keeps your room better organized. The drawers pull out easily allowing you to get to your clothes hassle-free.
Go to our catalogs to see more of our products. If you have any questions, you can contact us here or call at 800-423-LOFT (5638). We would love your business. If you need something quickly, you can ask about our Quick Ship Program.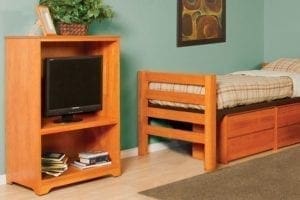 As founder and CEO, James N. Jannetides says, "We're committed to producing top-quality furniture that provides the best overall value." As a leader in the contract furniture industry, we strive to offer the best. That is what University Loft Company is all about.
 Until next time ~ Ginger Bock
University Loft is growing and we're looking for good workers to hire. If you are interested or know anybody who would like to enjoy the experience and relationship of being a part of this growing contract furniture company, contact us here or call 800.423-LOFT (5638).