Campus life is exciting. You're out on your own, learning new and interesting subjects, making new friends, there are new adventures every day, and, in all your exploits, you just might break some things along the way. Like maybe some furniture. Of course, that could happen anywhere, and The Makers of Cool are well aware of the breakage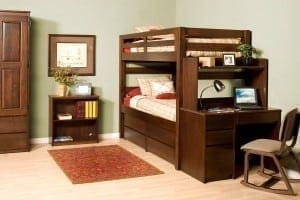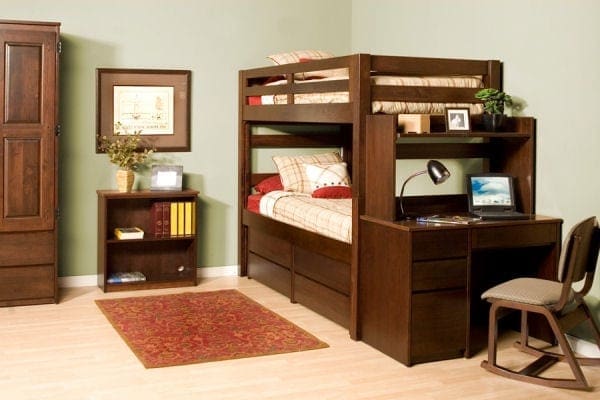 factor. Which is why we created our powerful bedposts made from solid hardwood. Let's talk about bedposts.
You see, the wood we use for our bedposts comes from environmentally farmed timber that's stronger than Northern Red Oak.  It also grows fast too. Five Hevea Brasiliensis trees grow and harvest in the same amount of time it takes one oak tree to be ready for the mill. University Loft strives to work with the environment while producing the finest quality student residence furniture for you.
Here's what you should know about University Loft bedposts:
When student rooms use University Loft bunk beds, the bed post they most often get are, cross-sectionally, a full 3 inches by 3 inches. They are kind of, altogether, oversized, but that is what makes them sturdy and durable. The high standard of quality offers long life.  Those on the top bunk and the bottom get the same solid support. If you don't need that much strength, you can also go with the 2.5 inch by 2.5 inch posts which are always University Loft strong to last long. These bedposts are built to endure daily dorm room activities.
While we are talking about bedposts, it is also good to know that Uloft also uses state-of-the-art construction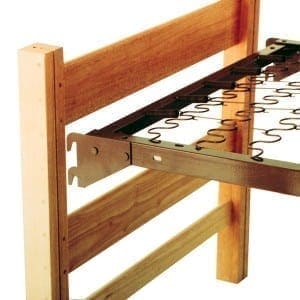 methods in all our furniture. You will find English dovetail joints, corner blocks, the Tool-Less System™, full extension drawer glides, and sooo muuuuch moooore.
University Loft Company offers you the best in college student furniture. To see more of our superior university furniture, you can browse our catalogs. If you have any questions, want to place an order, or discuss further furniture options, contact us here today or give us a call at 800-423-LOFT (5638).
 Founder and CEO, James N. Jannetides says, "We are always learning, always innovating, and always improving…We are University Loft Company." As a leader in the furniture industry, we are living up to that quote and haven't stopped with state-of-the-art ideas for all types of furniture.
Until next time ~ Ginger Bock
University Loft Company is growing and we're hiring. We are looking for good workers to become part of an excellent team. If you are interested or know anybody who would like to enjoy the experience and relationship of being a part of this growing contract furniture company, contact us here or call 800.423-LOFT (5638).