Every time we try to save on something, we compromise on another thing. If we try to save on time, we must give up doing something. If we try to save on our gas or electric bill, we usually give up comfort. And if we try to save on space, we end up with much less storage and furniture. But not so with Uloft products. University Loft Company has furniture that saves space without compromising space.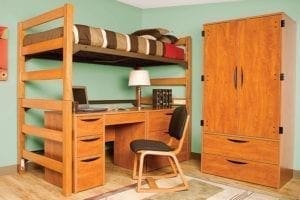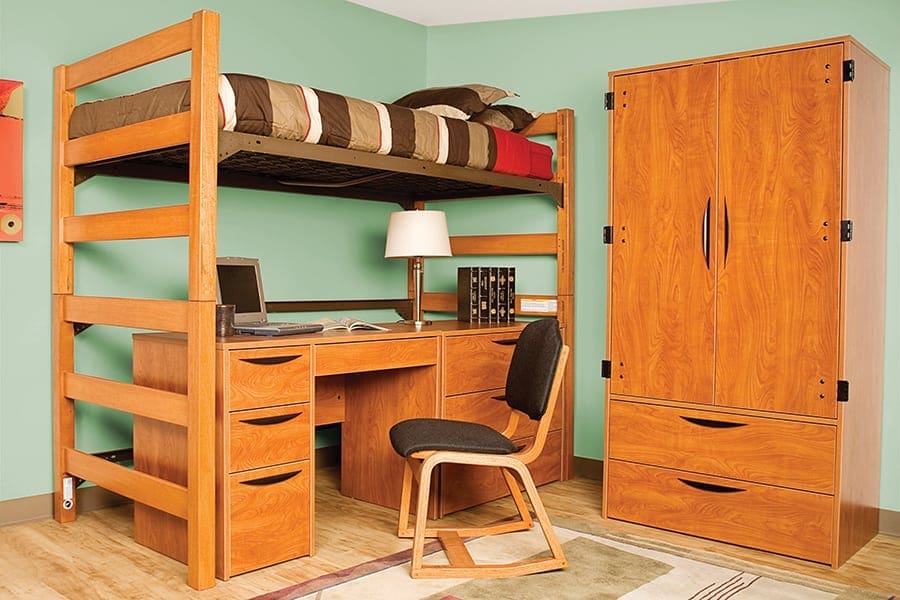 In most student resident rooms, once the bed, chests, desks, and chairs are in, you barely have a space to walk to the bathroom. With our vertical vision, you can stack beds and drawer chests, place storage under the bed and desk, and you leave yourself enough space to enjoy your student room.
Here's the genius of space saving college furniture: You loft your twin bed, place a desk beneath the bed, place drawer chests beneath the desk, and you have floor space and storage space. Unclutter your room and open the floor so you can live. This will revolutionize your study time and social life.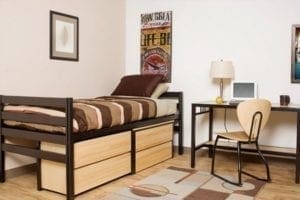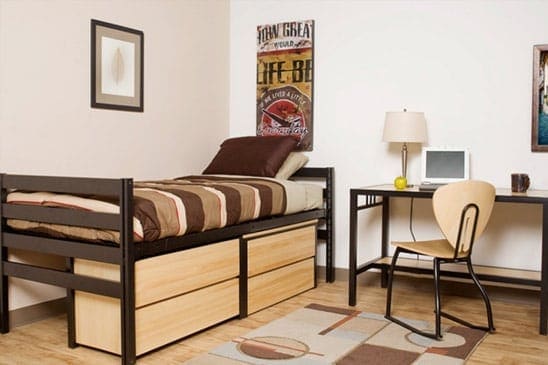 If you don't want to go that high, you can lift the twin bed high enough to set storage under the bed. It looks like part of the bed, but this can be moved to different parts of the room if you want to change things up.
You can also save space with bunk beds. Lift the bottom bunk high enough to add drawer chests and set an end table or desk on the other side of the bed, and you have made a nice cozy space for you and your roomie. To add even more storage, place a carrel on top of your desk so you can store books and other items there. You may have even made enough room for a wardrobe!
Reconfiguring your furniture, is easy with our Tool-Less System™.  You can DYI without needing a tool.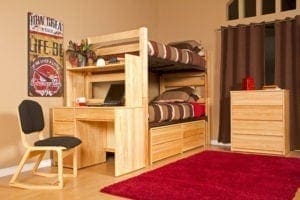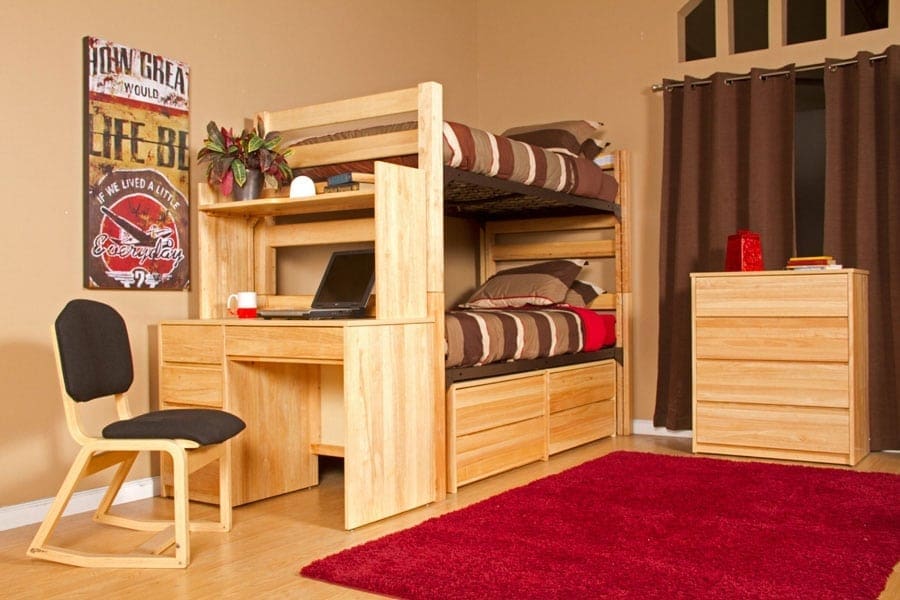 You will be so proud to see how organized you are with a Uloft system in your dorm room.  And you will love that you have furniture that saves space without compromising space.
Check out our catalogs for more ideas on super cool university furniture from The Makers of Cool. If you have any questions or would like more information, you can contact us here or give us a call at 800-423-LOFT (5638). One our qualified Uloft representatives will be ready to assist you. We want your business. If you need something in a jiffy, let us know. We have a Quick-Ship program that just might fit your needs.
University Loft Company is a leader in the furniture industry and creates innovative furniture products for college campuses, apartment complexes and new developments, off-campus housing, and defense quarters. Founder and CEO, James N. Jannetides has a continual drive and determination, which is the force behind University Loft Company.  His example as an extreme visionary has been a wellspring of encouragement and inspiration to many.
University Loft Company is growing and we're hiring. We are looking for good workers to become part of an excellent team. If you are interested or know anybody who would like to enjoy the experience and relationship of being a part of this growing contract furniture company, contact us here or call 800.423-LOFT (5638). 
Until next time ~ Ginger Bock