When a young woman finished combing her wet shoulder length hair with a detangling comb, she lay it down neatly next to the brush and blow dryer on the bathroom counter. Behind the perfect line of styling tools was a perfect line of hair products. After using one, she returned it to its proper place. Nothing in her area was out of order. After styling her hair, she checked her outfit in the mirror. As everything was in place, it passed her inspection. Sitting on her Uloft Two-Position chair behind her ULC writing desk, she picked up the pen from the penholder, opened her agenda list, and began writing down the day's priorities. Organization was a must for her. She opened an immaculate drawer that neatly kept pencils, highlighters, writing tablets, and her electronic device. There wasn't even dust inside the drawer. She liked everything to stay in order and kept it that way. Some people will take the time to keep their places organized and neat. If anything is out of order, it becomes difficult for them to work to the best of their ability. Others like organization but are okay even if something are not in a perfect line. At University Loft, we understand that order is important whether it is perfect or good, and our student residence furniture will help you keep the order that you like best. Here's how.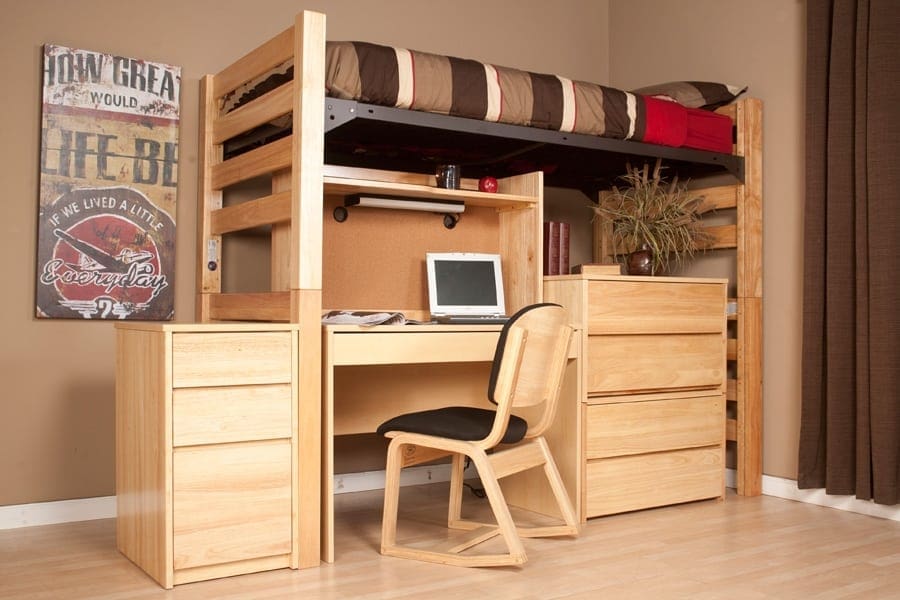 Rise Up!
When floor space is sparse, we have a solution that will work for you. Loft it. Go vertical. You will get more space by taking your twin bed and lifting it up to make room under the bed to slide drawer chests. Raise the bed even higher as an open loft to fit furniture products like a desk, chair, and drawer chests beneath. University Loft makes it easy with our Tool-less System™. It comes together in simple steps (and you do it all without the use of tools). We like to make life easier.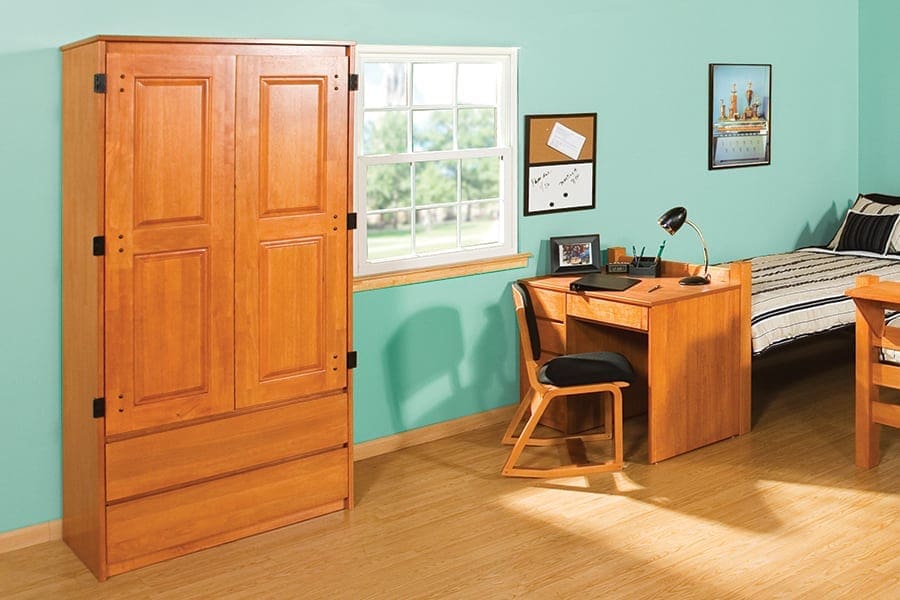 The Wardrobe
Adding a University Loft wardrobe to a student room is a plus for keeping order. It will help you see what clothes you have, prevent them from wrinkling because they were shoved in an overstuffed drawer, and help you store many of your other possessions. We have a variety of styles. We even have portable wardrobes that may fit your needs best. Ask your Uloft representative about what would be best in your facility.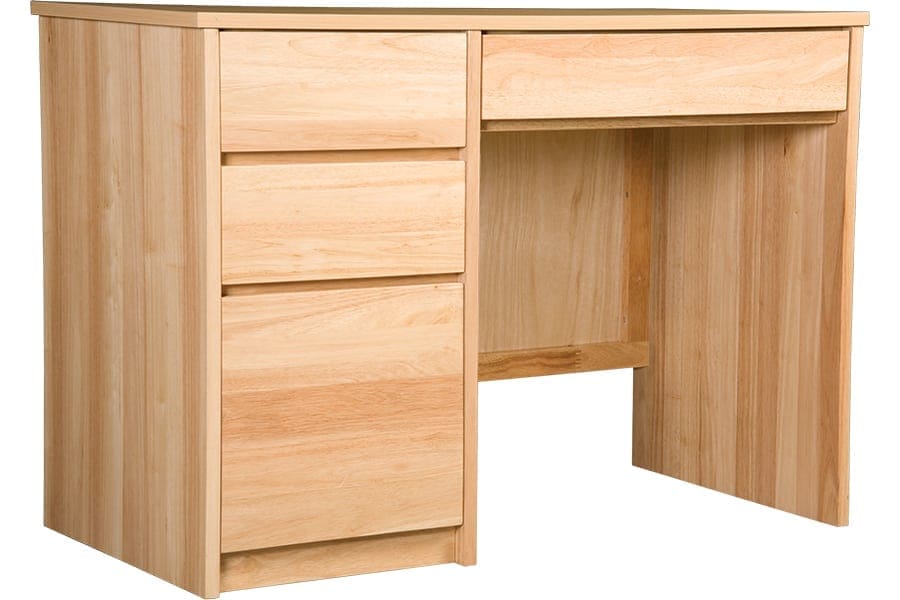 Keep It In One Place
On the side of a ULC pedestal desk there are three drawers. A deep one for filing and two for storing. The center drawer can be used to keep writing items, stamps, cards, and the like. A pedestal desk helps you keep your items organized. However, it doesn't come with a guarantee that your desk top will stay neat. That is up to you.
Desk Top Neatness Tip: put your items away as soon as you are done using them even if you think you are going to use them again shortly. You may not, and then it all catches up with you. Before you know it, you have hours of sorting what didn't get put away.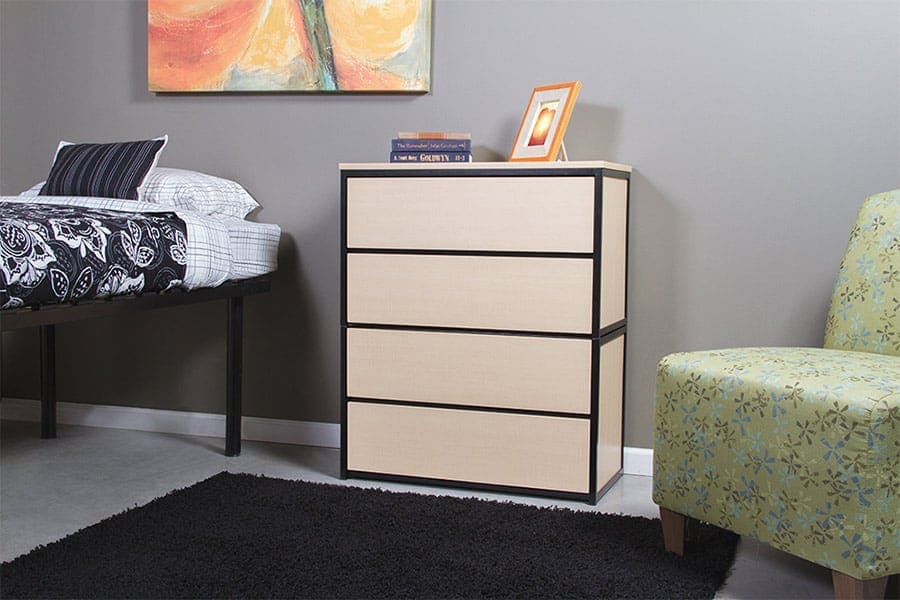 Stackable Drawer Chests
If you don't want to put your drawers under the bed, you can always stack them. Then again, you can put them under the bed and stack them for optimal storage space.
Special Features: Full extension drawer glides. They open fully and with ease. The drawers are also built with state-of-the-art construction methods using English dovetail joints, and four corner blocks. Our furniture is crafted to last through tough times as well as gentle times.
Even if keeping order isn't as important to you as it is the young woman described earlier in this article, University Loft furniture will help you keep better order of your items and offer you the storage space and extra room you may need to make it more effective.
Have a look at more fine University Loft products. You can see an array of styles and collections in our catalogs. If you have any questions or would like to converse with a University Loft representative, you can contact us here or give us a call at 800-423-LOFT (5638). If you need something in a hurry, ask your rep about our Quick Ship program. We may have something stocked and ready to ship to you.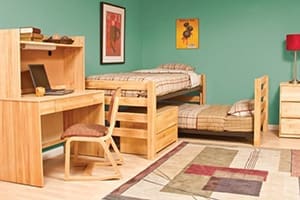 We want your furniture shopping and purchasing experience to be smooth and carefree, therefore, we have many products to suit the needs of your facility. We also have helpful and knowledgable staff that are ready to answer your questions and direct you in the way that will be best for you.  As a company, we do things the right way. Founder and owner, James N. Jannetides says, "When it's all said and done, we hope that you recognize that our business isn't really about furniture, it's about the people who entrust University Loft Company to outfit the personal spaces where they live, work, and play. To remain worthy of that trust, we are always innovating and always improving our environment, our products, and our service. It's what you expect of us, and it's what we demand of ourselves. Thank you for choosing University Loft furniture."
Until next time ~ Ginger Bock.