Whether you are looking to furnish your lounges, student residence halls, military bases or individual rooms, University Loft Company offers superb products, and an extra bonus – excellent customer service. We are here to help direct you in your furniture needs. Sometimes making this type of a purchase can be overwhelming, but University Loft is a furniture powerhouse here to serve you. The sales force is ready to answer questions and give you the direction you need. That is one of several reasons ULC should be your furniture provider.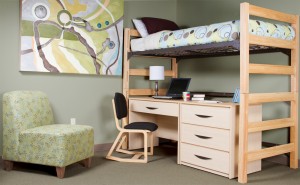 We know what you like
Over the last nearly 30 years, we've learned what it is that our customers need. But from the beginning, our student furniture was created by students while they were attending university. We know what you like as well.
We're comfortable, attractive and strong
We don't mind boasting on the outstanding features of our student furniture. The Graduate Series is solid wood whereas the Metropolitan Series is a blend of metal and laminate. University Loft builds both kinds in our various furniture series. Either type is strong and attractive. They are able to endure more than just your daily routines. No matter what series you choose, our furniture is comfortable. The warmth and character in each piece makes any room attractive while adding great personality to it.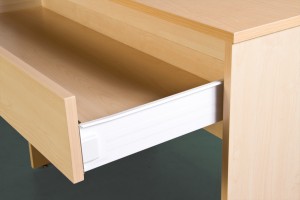 We are a furniture powerhouse here to serve you
Our product has been tried by natural disasters and has come out still standing. We are a furniture powerhouse here to serve you. Our products are manufactured on a rock solid foundation. That is because our college student furniture is built to last. We craft our desks and drawers with dovetail joints and corner blocks. Our bedposts are thicker than required. So, with all of that reinforcement, we stick around for a long time.
Our relationships are long lasting
We love to serve our customers and do it right every time. It's important to us that you are satisfied with your new purchase. We build a relationship with good communication and customer service. You are our priority.
We have a wide variety of furniture to select. From Student Housing to Defense Quarters, you can see what we have to offer when you take a look at our catalogs. There is a qualified University Loft representative available to help you if you have any questions about what would work best for you or need direction. Contact us or give us a call at 1-800-423-LOFT (5638). We not only want your business, we want your furniture shopping experience to be a pleasurable one. We are always ready to ship orders at a short notice.
Until next time ~ Ginger Bock