How a lobby is outfitted depends greatly upon taste, budget, and size. University Loft knows exactly what
makes these places of gathering exceptionally welcoming from trendy, cool cuts to classic looks that are always fashionable. Soft seating from University Loft Company makes the lobby extraordinary. Now, we have a new ottoman that will add a splash of style, fun, and comfort to your lobby area. The Makers of Cool bring you the new Lunar Series. It is perfect for the not-so-common common space.
The Lunar Series is a half-moon shaped ottoman that you can pull in front of a sofa and kick your feet up to relax. It's a great standalone piece, but you can use several to push together and form comfortable and creative seating. It will make your common area so unique that people will be drawn back again and again. They reconfigure easily allowing you to change up the area as often as you want hassle-free. This new series is so versatile that you will love reconfiguring it and playing with new patterns.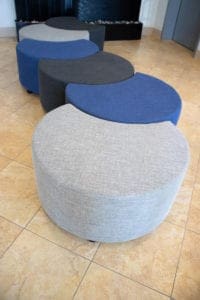 The Lunar Series comes in an array of fabrics, so you can get them in different colors to harmonize with your color scheme you already have.  The covers are attached using Velcro® Technology, so you can remove them for cleaning, repairing, or replacing with ease. For your convenience, have a look at our Velcro® Upholstery Demo.
Would you like to know more about the Lunar Series? Contact us here or give us a call at 800-423-LOFT (5638) and one of our skilled Uloft representatives will help you. You can see more of our soft seating here. Browse our catalogs for more college student furniture. If you need something in a hurry, ask about our Quick Ship Program. 
University Loft Company wants your furniture buying experience to be satisfying. We are committed to producing top-quality furniture that provides the best value. We are innovators manufacturing products to improve student residence furniture, off-campus and military housing, apartment and new development furnishing and multi-family unit housing. Founder and owner, James N. Jannetides is the creative force behind University Loft Company. His vision for loft beds was only the beginning of the accomplishments done in contract furniture through this company.
Until next time ~ Ginger Bock