Have you been enjoying the beautiful array of trees blooming with flowers? The refreshing fragrances are a pleasant that new life is spring up around us with vibrant colors of white, pink, lavender and peach. The newness of spring makes people to want to clean out the old dusty things left over from winter, open the windows and let the fresh air in. It also might be time to think about newness for your multi-family unit or off-campus housing. Loft has something perfect for you.
Each series from Uloft is crafted to endure the wear-and-tear of daily living. That's because we build our furniture by hand. The power of our solid wood frames is their durability. With our upholstery seating you can select from a variety of fabrics that suit your area. I have a question for you, how many times has something spilled on your furniture? Well, Loft uses Velcro® technology on our upholstery so it can be easily removed for cleaning. This also allows you to replace the upholstery to change up the look. It only takes minutes to upholster the entire piece.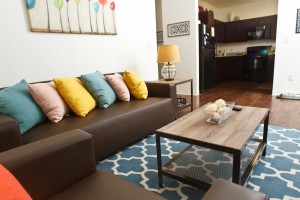 You want new tables and chairs? We have that too. Have a look around at all that is available for your multi-family units or off-campus housing. Like all of our furniture, these pieces have been crafted to endure. There is much from which to select. You may want to talk to a representative for details. Why not have a look at all of our catalogs featuring off-campus housing, apartment furnishings, student residence furniture and military housing? If you have any questions just give us a call at 1-800-423-LOFT (5638) or contact us online. We not only want your business, we want your furniture shopping experience to be a pleasurable one.
University Loft Company is a leader in the furniture industry and continues to create innovative products. Founder and CEO, James N. Jannetides' continual drive and determination is the force behind University Loft Company. His example as an extreme visionary has been a wellspring of encouragement and inspiration to many.
Until next time ~ Ginger Bock