Have you ever walked through the woods on a chilly day when the wind is blowing causing the branches to sway? Have you noticed that it's warmer in the woods than out in the open? It is a nice place to be when the wind is biting through your clothes. It really grieves me to know that more than ¾ of the planet's original forests have been degraded or even destroyed by man. This is one strong reason that University Loft Company has chosen to be committed to environmentally friendly wood furniture. We use solid wood from a sustainable source. Since our customers deserve the best, we've set our standards high for the furniture we manufacture and the wood we use.
The environmentally responsible wood we use is a hardwood from the Hevea Brasiliensis, or rubber wood tree. During its growth progression, the tree is tapped for latex, which it makes for 20 years. At the end of its latex production cycle, the trees are not left to rot. They are not burned. Rather they are cut down and used for furniture. Nothing goes to waste! But that's not the only reason we select this rubber tree for the furniture crafted by University Loft Company.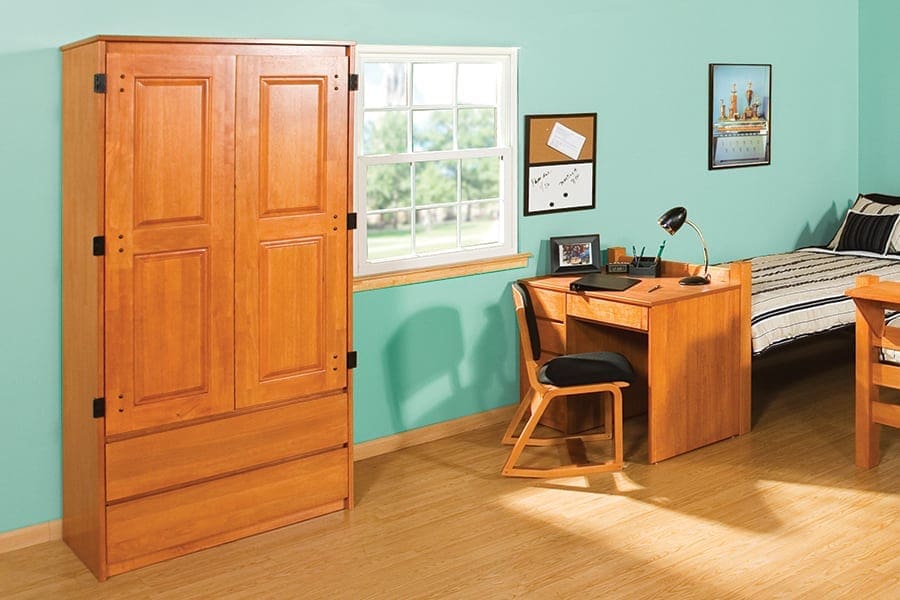 It's Strong
To determine how strong this wood is, there was a test conducted independently. University Loft compared a completed range of our casegoods against our competitors. The furniture went through repeated series of pressure. Every time, our products withstood longer than our competitors who used Northern Red Oak.
Our furniture withstands the daily wear-and-tear and keeps on going strong.
It's Safe
Our wood is kiln dried at temperatures that kill any insects that might be in the wood. This means that less chemicals treat the wood. Hevea Brasiliensis has been proven safe by the United States Environmental Protection Agency and is approved to be used at the retail level for items such as tables, knives, spoons, and bowls.
It's Pretty
The light colored wood's grain is similar to oak. It can be stained to match the color scheme of the room it will be placed in, or it can be left to enjoy its natural beauty. Either way, it is a pretty wood.
Have a look at our catalogs. You will see a variety of furniture that is perfect for homes, lounges, universities, off-campus housing, and military housing. If you see something you like or have questions, you can contact us here of give us a call at 800-423-LOFT (5638). A ULC representative will be ready to assist you. Need something quickly? We can do that. We ship orders at short notice if necessary.
Founder and CEO, James N. Jannetides directed University Loft to adopt a green initiative when the company was still very young, and we became a model for others to be environmentally responsible. When you purchase furniture from University Loft Company, you are helping to support a healthier environment.
Until next time ~ Ginger Bock