One simple idea back in 1986 that James Jannetides had to save space in a dorm room has turned into a college furniture company that is presently in 1,100 institutions and in 7 countries. It should not be surprising, though, because University Loft Company has developed absolutely the best student furniture in the market. The results speak for themselves.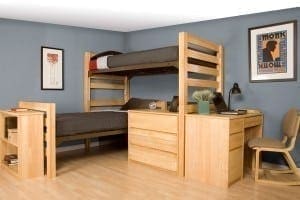 You see it all the time, other companies' products that looks similar to University Loft's and are priced cheaper, right? Just remember the old saying, "You get what you pay for." No toothpick frames in University Loft student furniture, just excellence and sturdiness, an obvious component in our product line. Anyone can make a piece of furniture cheaper and even copy its style, but when it is tested for durability and strength, not one manufacturer can stand up to our heirloom quality. Definition of "cheaper" – you're just going to have to replace it sooner. Cheaper is not better in student furniture.
No victims when purchasing anything from University Loft. Our student housing line has set the standard in the industry for durable, quality university furniture that will be around for generations to come. We stand behind our product. When you buy from LOFT, our relationship starts and you are joining, the LOFT family.
If you have any questions, please contact us or give us a call at 1.800.423.LOFT (5638). You can also see more of our fine university furniture by viewing our catalogs. Have a blast as you look around!
Until next time ~ Ginger Bock
University Loft Company is a leader in the furniture industry and continues to create innovative products. Founder and CEO, James Jannetides' continual drive and determination is the force behind University Loft Company. His example as an extreme visionary has been a wellspring of encouragement and inspiration to many.