Strong furniture doesn't have to be big, bulky, and – not so pleasant to look upon. It can be aesthetically pleasing while still offering a powerhouse of strength.  University Loft Company has furniture that will serve your purpose no matter what you are furnishing. From residence halls to common areas, from café tables to stack chairs, from new development to military houses, you can count on your rooms to exude beauty and strength; we have furniture with purpose.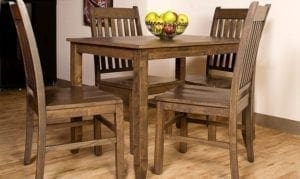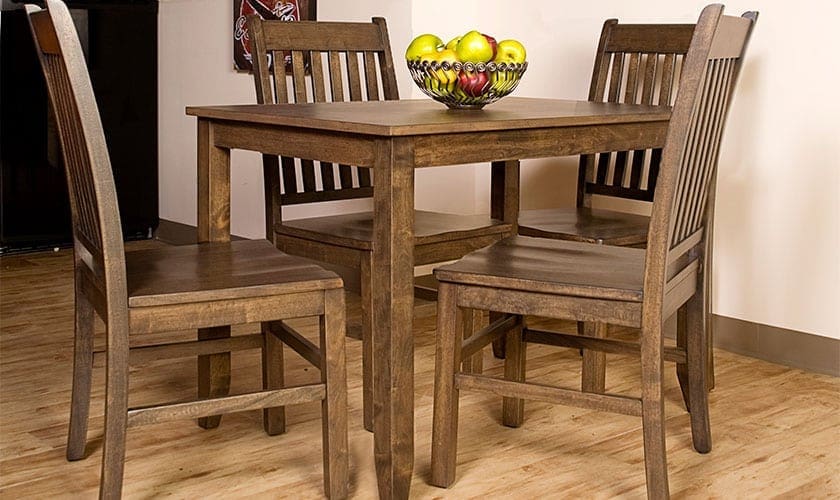 It Starts with the Hardwood
Environmentally friendly, stronger than oak, and beautiful to the eyes, we use timber from Hevea Brasiliensis. This is a tree that is useful for its entire lifespan, which is about 25-30 years. It is during that time the trees produce latex. When the latex stop appearing, the trees are then cleared, and new ones are planted. The wood is never wasted rather it goes to the mill where it is made into the hardwood you see in Uloft furniture.
It's Resistant
The wood on its own is resistant to mold, bacteria, and fungus.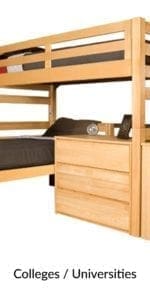 Underrated
The beauty of Hevea Brasiliensis is completely underrated. Its pattern resembles oak with mostly lighter tones. University Loft offers several finishes you can select to go with the color scheme you already have. If you take a tour of our website, you will get a good idea of what is the best match for you.
A Lasting Image
We are in this for the long haul. Building a relationship with our clients and offering furniture that can last from one generation to the next.
Want to See More?
Check out our catalogs to see more of our solid wood furniture and wood and metal blends. You will see something you like, so if you have any questions, you can contact us or give us a call at 800-423-LOFT (5638). One of our skilled Uloft representative will be available to help you. If you need something quickly, please let us know. We have a quick ship program that might fit your needs. We would love to do business with you.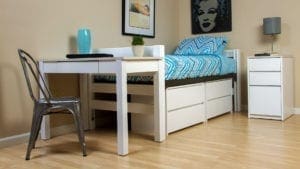 Founder and CEO, James N. Jannetides says, "We are a company with ethics. Integrity is more than a word. We manufacture furniture the right way." As a leader in the furniture industry, University Loft is honored to live by a high standard of ethics that continue to bring innovative ideas for university furniture, off-campus housing, apartment complexes and new developments, and GSA defense quarters to our customers regularly.
Until next time ~ Ginger Bock
University Loft Company is growing and we're hiring. We are looking for good workers to become part of an excellent team. If you are interested or know anybody who would like to enjoy the experience and relationship of being a part of this growing contract furniture company, contact us here or call 800.423-LOFT (5638).