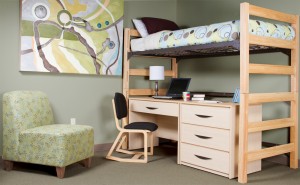 University Loft Company is known for excellence in ethics and high standards in university furniture, apartment furnishings and military housing. Our products are durable and strong, comfortable and aesthetic – and fun. Make your room fun with University Loft furniture. Here are 5 outrageously fun things for your room.
The Open Loft Bed – You climb to the top where you lounge in the loftiness of your bed. It's space saving too. Beneath the loft bed you can place a desk or a chair and your secret storage units (we'll get to that in a minute). It's space that you own.
Bed Ends – Whether you have bunk beds or the open loft, bed ends with built in ladders will make your climb to the top a great adventure. Metal or solid wood the bed ends are Tool-Less ™ and easy to reconfigure.
Secret Storage Units (also known as Drawer Chests) – What makes these drawers so much fun? I'm glad you asked. Since they store your stuff, you may want to put more personal items toward the back, you know, a "secret storage" place. Well, getting to those items is easier with University Loft drawer chests. That's because our drawers are made with full-extension gliders.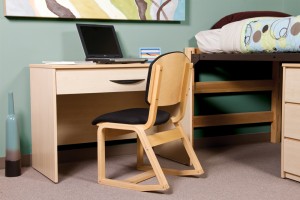 The Two-Position Chair – It rocks! Literally. The chair is built to rock or tilt. Ergonomically designed with your comfort and posture in mind. So rock on in your Two-Position Chair.
There you have it! 5 outrageously fun things for your room. To see more amusing and serious college furniture, stop by our catalogs. Your business is important to us. If you have any questions, give us a call at 800-423-LOFT (5638) or contact ULC online. A skilled representative is ready to help you.
Orders can be shipped a short notice.
Founder and CEO, James Jannetides says, "We are always learning, always innovating, and always improving…We are University Loft Company." As a leader in the furniture industry, University Loft is living up to that quote and hasn't stopped with innovative ideas in not only university furniture, but also off-campus housing, apartment furnishings and military housing.
Until next time ~ Ginger Bock