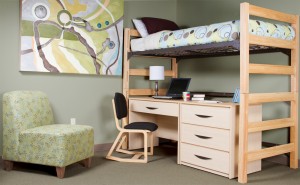 Power, warmth, strength & style. University Loft Company's GSA Defense Housing has product lines that blend the power of steel, the warmth of wood and the resistance of laminate for strength and style. If you are looking to furnish a barracks or quarters, we have the furniture answer for you.
Innovative ideas constantly flow at University Loft Company. Take for example, The Metal Series has Tool-less™ bed ends that can easily hook into several different position allowing for a variety of ways to configure; depending upon the size of the area. Lift the bed high enough and you can place drawer chests beneath for storage. Add a wardrobe and desk and this room becomes alive with warmth and coziness.
All of University Loft Company's GSA Defense Housing furniture is produced from Environmentally Farmed Timber. And as an eco-friendly business, we also use sustainable materials whenever possible. As you can see University Loft Company's GSA Defense Housing has product lines that offer power, warmth, strength and style to the barracks or quarters.
To see more of our military housing furniture, take your time and browse our catalogs. Your business is important to us. When you let us know your furniture needs, an experienced representative will be available to help you. If you have any questions, you can contact us or give us a call at 1-800-423-LOFT (5638). We can fulfill orders at short notice.
As a leader in the furniture industry, University Loft Company continues to create products that suit the needs of universities, military and family housing. CEO and founder, James Jannetides has a contagious positivity that drives the company to creating more state-of-the-art products. His wisdom and vision is one to follow and has been a source of motivation and encouragement to many through the years.
Until next time ~ Ginger Bock