With all the cool things that go on at college, it can be easy to miss quality study time. Sometimes classes, projects, and life in general can be overwhelming, but don't let that steal the time you need to hit the books. It's the very thing that will help ground the information you obtained in class. University Loft Company offers many products that can help you during the tougher times of college life. These following 4 tips will make a difference in your study time.
Tip #1 Stay Organized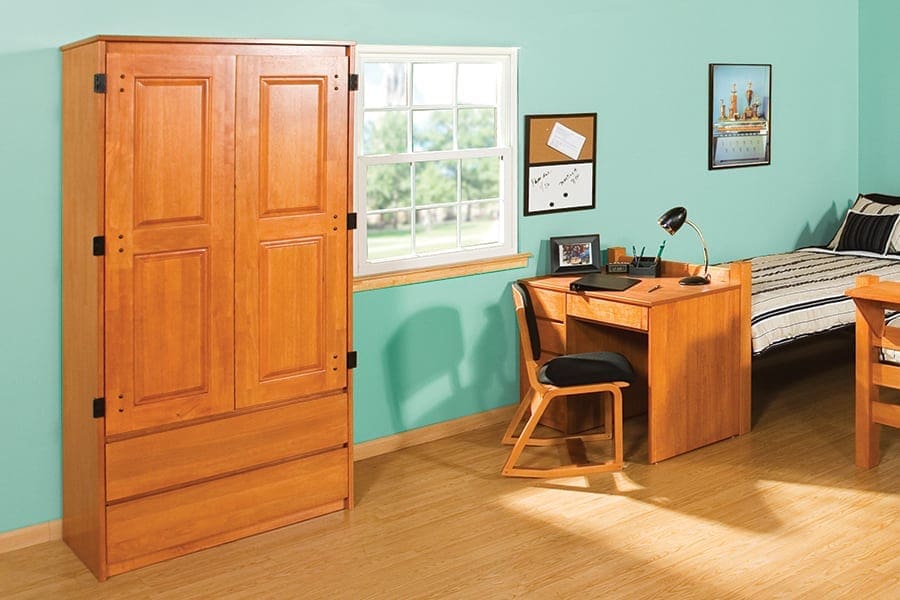 With wardrobes and pedestal desks, University Loft can help you put your stuff in an easy-to-get-to place. Hang your clothes to keep them crisp and ready for the quick change you may need to make in-between classes, play, or whatever. The heavy-duty metal drawer box opens fully and allows you to keep your belongings in place.
The pedestal desk includes two left side drawers, a deep file drawer, and a pencil drawer (because everyone still uses writing utensils at some point). Our desks are equipped with English dovetail joints and corner blocks for added durability and long life.
The full-extension drawer glides on all our drawers make getting to your things a breeze.
Tip #2 Special Place to Study
If you add a carrel to the top of your desk, you will have place to store your books and memorabilia, in addition to a sweet place to study.
If you don't need all that desk storage, use a writing desk instead. They too include a pencil drawer.
Having a special place to study will help you focus and offer a sense of familiarity that will aid in concentration. You always know that when you go to your desk, you are going to study.
Tip #3 Breakaway
Taking breaks will help refresh you before going back to your studies. Please, please, please stop thinking that you don't have enough time to step away from the books. Everyone needs a break. You will avoid burnout and come back sharper, ready to take on the next task. University Loft can help with soft seating for your student residence. Just sit down a relax for a few minutes in one of ULC's sofas, loveseats, or chairs. The styles vary, and the fabric selection is amazing.
Tip #4 Good Sleep Good Rest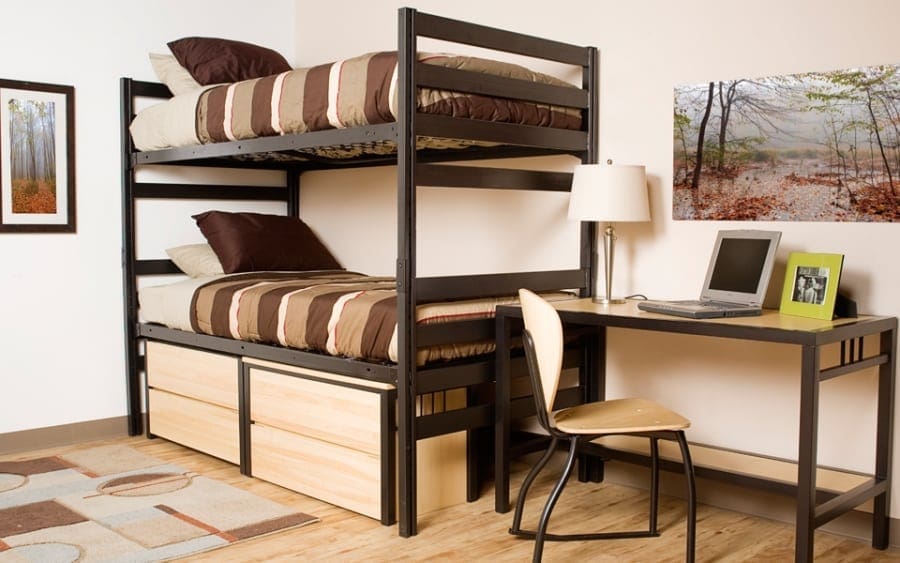 Sometimes you can wing-it and do well even when you are sleep deprived, but good rest aids in your awesome awesomeness.
Besides our twin beds, bunk beds, and loft beds, University Loft has mattresses, and a Mattress Rotation Program to help you get the most life out of your Uloft mattress.
I'm sure these 4 tips will make a difference in your study time.
Why not check out more of our products by browsing the catalogs. If you see something you like, or if you have any questions, you can contact us here. You can also call us at 800-423-LOFT (5638). A qualified Uloft representative is ready to help you. If you need something in a hurry, we can quick-ship your order. We want your business.
University Loft Company is a pioneer of innovative furniture design and manufacturing for over thirty years. Our commitment to producing top-quality furniture that provides the best overall value is equaled by our commitment to a high-level of ethics as a contract furniture provider. As founder and CEO, James N. Jannetides says, "When all is said and done, we hope you'll recognize that our business isn't really about furniture; it's about the people who entrust University Loft Company to outfit the personal spaces where they live, work and play. To remain worthy of that trust, we are always innovating and always improving…we are University Loft Company."
University Loft is growing and we're looking for good workers to hire. If you are interested or know anybody who would like to enjoy the experience and relationship of being a part of this growing contract furniture company, contact us here or call 800-423-LOFT (5638).
Until next time ~ Ginger Bock