There is only one you exactly like you. There may be people who are similar to you, but you are an individual with your own set of likes, flavors, and personality. Every person is distinctively different. So, when it comes to student furniture, you want to dress your room to express yourself. That is where University Loft Company will make a difference in your life. LOFT student furniture lets you be you.
Reconfigure It Your Way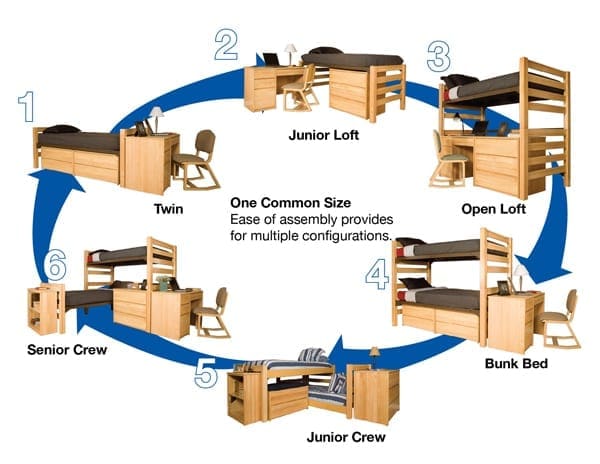 Live comfortably and have a place for all your belongings. University Loft has modular furniture that allows you to reconfigure it your way. Express yourself with the space that you have by modulating the furniture to fit your space and your taste. Position your bed the way you want, add drawer chests that you can stack and finish it with décor that is exceptionally you.
University Loft helps you get the space you need to do this. Uloft beds can be used as single units, whether lofted or left low on the floor. They also make awesome bunk beds. Now, let's say you get tired of the way you have things arranged. No worries. Our Tool-Less™ System, lets you rearrange your college furniture easily, and you don't even need tools to accomplish the task.
Decorate Your Desk Carrel
Our desk carrels will allow you to stack your books and notebooks and store special items. So, decorate your desk carrel making it exclusively you. Add a seat such as our metal ply chair, an office chair with lumbar support, or a Two-Position chair. Whether you select a writing desk or a pedestal desk, you can show off who you are and get some good studying completed while doing it.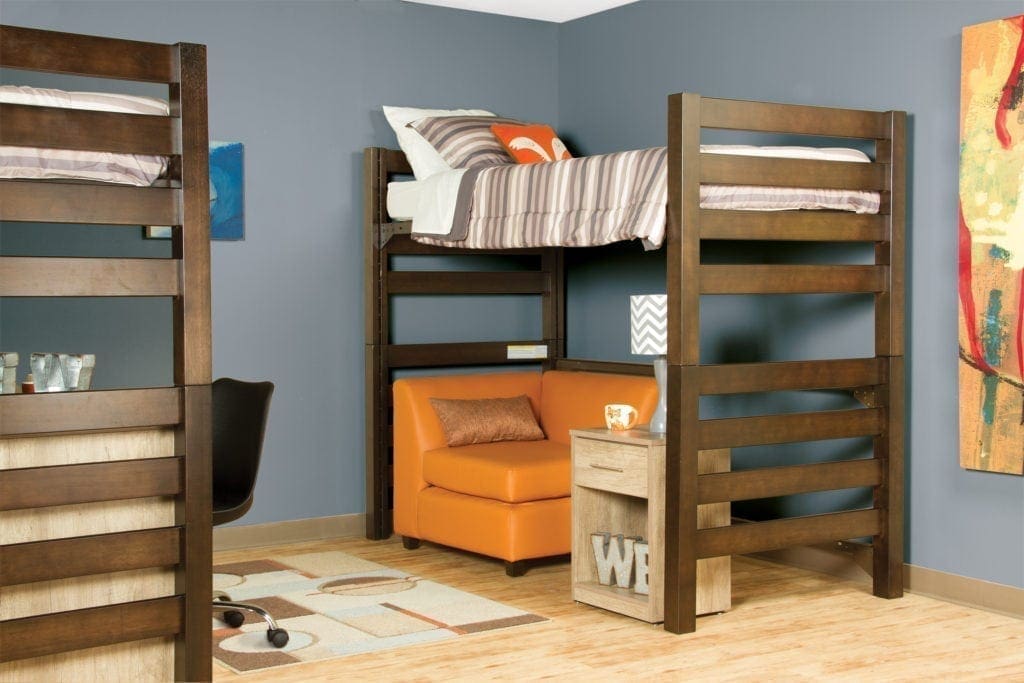 Let your student residence display your uniqueness. LOFT student furniture lets you be you!
Check out more of our college university furniture by going to our catalogs. If you see something you like or have any questions, you can contact us here or give us a call at 800-423-LOFT (5638). A qualified Uloft representative will be available to help you. We want your business and can ship your order at short notice.
University Loft Company is a leader in the furniture industry and creates innovative furniture products for college campuses, apartment complexes and new developments, off-campus housing, and defense quarters. Founder and CEO, James N. Jannetides has a continual drive and determination, which is the force behind University Loft Company. His example as an extreme visionary has been a wellspring of encouragement and inspiration to many.
Until next time ~ Ginger Bock
University Loft Company is growing and we're hiring. We are looking for good workers to become part of an excellent team. If you are interested or know anybody who would like to enjoy the experience and relationship of being a part of this growing contract furniture company, contact us here or call 800.423-LOFT (5638).