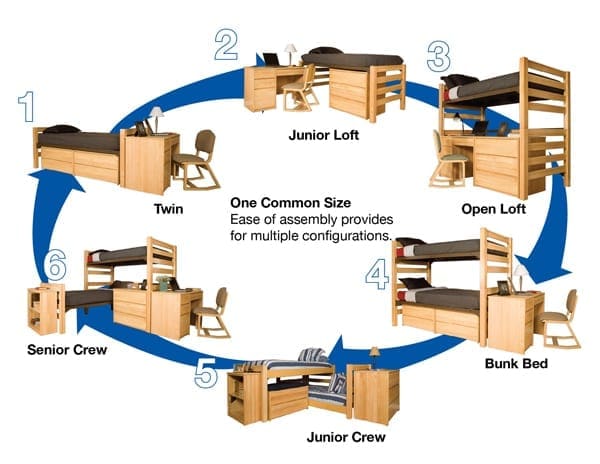 Remember Goldilocks? Remember how, once she was inside the home of the three bears, Goldy began checking out the accommodations, eventually finding a bed perfectly suited to her needs? Well, imagine Goldilocks' delight when she arrives at college and discovers University Loft furniture in her dorm room!
Unlike the tedious product testing Goldy embarked upon while the bears were away, her University Loft student housing furniture is ready for easy customization and personalization. In fact, no matter which ULoft furniture series her college has chosen, there are dozens of possible sleeping configurations, all made super simple with the University Loft Tool-Less System. Here's how it works:
Each university housing bed includes 11 possible height settings. To change the bed height, you simply remove the mattress and spring unit, and then position one side rail at the desired height. You can do this by inserting the steel bunking pins into the chosen position on the slotted steel dowels for each bed end. Tap them firmly into place, and then repeat for the other side. With both bed sides even, replace the spring unit and mattress. Of course, if the bed is a little too short or a little too tall, simply repeat the process, making the right adjustments.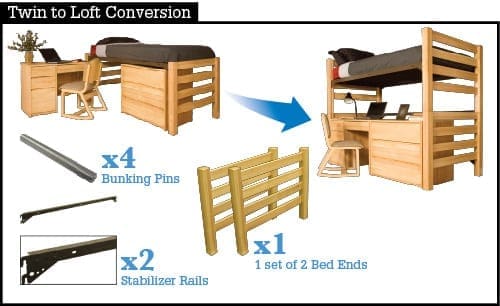 Because Goldilocks will most likely have one or two roommates, University Loft beds can be stacked and arranged in multiple configurations (as shown in this video) to create the perfect student housing solutions and the ultimate environment for university living. The ULoft beds can be positioned side by side, head to head, elevated with additional bed ends, stacked as bunk beds, and on and on. The possibilities are virtually endless, but the result is always the same: a dorm room that is personal, comfortable and functional. In other words, a college residence outfitted with University Loft furniture is always "just right"!
Bob
The ULoft Blog Team
About University Loft Company and our solid wood modular residence life furniture:
Since 1984, when James Jannetides built a loft configuration for his own dorm room at Southern Illinois University, hundreds of thousands of college students have enjoyed better campus living thanks to University Loft furniture. Today, University Loft serves more than 1,200 colleges, universities and related student housing partners. As Jannetides' says: "We are always learning, always innovating, and always improving … our environment, our products, and our service. We are University Loft Company."