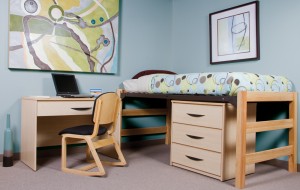 William Cowper's said in his poem, The Task, "Variety is the very spice of life that gives it all its flavor." We see the spectrum of variety in everyday life. For example, the wonders of nature to the amazing ideas the human mind can create. University Loft spices student furniture up with our own variety of styles. Out of all the series to choose from, you will find a perfect fit. So, variety is the very spice of life that gives University Loft college furniture its flavor.
The innovative ideas for student resident furniture are constantly coming for our designers. They carefully construct new and better items for the dorm room. With our array of styles in student housing, you can select from solid wood designs, like The Graduate Series or the blend of cool metal with warm solid wood and laminate such as The Meridian Series. The attractive characteristics of our university furniture make your room a home away from home. University Loft Company builds college furniture to look good and last long. We're talking decades of daily use. Our durable college furniture has been known to survive hurricanes and floods. They may get wet, but they come out still standing strong. That's because University Loft crafts our products the right way using strong wood. The strong steel we use comes from recycled materials whenever possible.
Do you like to move furniture around to change things up a bit just to have a little…variety? You'll never suffer from boredom with student housing furniture form ULC. There are a number of ways to modulate your dorm room furniture. And Uloft has made reconfiguring it super easy.
You can see more of our student and off-campus housing, our apartment and multi-family unit furnishings and our defense quarters furniture in our catalogs. There you will see that University Loft spices student furniture up. If you want to know more, or have any questions, please contact us or give us a call at 800-423-LOFT (5638). A Uloft representative will be available to help you. We can ship orders at short notice.
Founder and CEO, James N. Jannetides says, "We are a company with ethics. Integrity is more than a word. We manufacture furniture the right way." As a leader in the furniture industry, University Loft is honored to live by a high standard of ethics that continue to bring innovative ideas for university furniture, off-campus housing, apartment furnishings and military housing to our customers regularly.
Until next time ~ Ginger Bock