University Loft is proud to American factories in both Greenfield, Indiana and Morristown, Tennessee. With skill and excellence, our craftspeople create state-of-the-art, durable furniture for residence halls, apartment complexes and defense quarters housing. The personal touch and care that a University Loft skilled worker puts in each product is an added feature that causes a room furnished with ULC furniture amazing. Our university furniture can be found worldwide, but we are pleased to be manufacturing quality furniture in the USA. You could say we are a global company with a hometown touch.
Before you ever see furniture from University Loft, there is a great amount of thought and production that takes place.
Strong Lumber for Durable Furniture
The lumber we use comes the Hevea Brasilliensis tree, which is known for its strong timber. Not only is this superior wood durable for long lasting furniture, but the design in the finished grain is similar to oak. In addition to strength and beauty, these trees love the environment. They grow faster than the Northern Red Oaks, so they are replenished quicker.
State-of-the-Art Engineering Methods
When building the furniture, we use state-of-the-art engineering methods. You will find
Mortise and Tenon joint frames, corner blocks, solid wood bedposts, and English dovetail joints. The drawers come with full-extension glides and finger pulls.
Tool-Less System™
Our Tool-Less System™ permits you to quickly change the height of your bed without the use of tools. The process is smooth allowing you to change your bed around into limitless arrangements.
Government Sector
For our military, we have special furnishings that add warmth and comfort to their areas. It will feel like home when you walk into a room with University Loft furniture. Our Whole Room Concepts offer a variety of rugs, bedspreads, televisions and wall art. Decorate your room with University Loft's Whole Room Concepts from start to finish.
Though University Loft Company is a worldwide contract furniture manufacturer, the founder, James Jannetides, has always wanted to have a homey feel to all of the university furniture, off-campus housing, apartment furnishings and military housing. That's why University Loft is a global company with a hometown touch.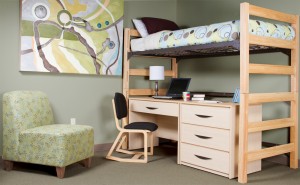 Would you like to see more of our quality student housing furniture? Just have a look at our catalogs. For more details, you can contact us or give us a call at 800.423.LOFT (5638). A University Loft representative will be happy to assist you. We would love your business, so please let us know what you are looking for and we will help make your shopping a pleasant experience. By the way, orders can be shipped at short notice.
Founder and CEO, James N. Jannetides says, "We are a company with ethics. Integrity is more than a word. We manufacture furniture the right way." As a leader in the furniture industry, University Loft is honored to live by a high standard of ethics that continue to bring innovative ideas for university furniture, off-campus housing, apartment furnishings and military housing.
Until next time ~ Ginger Bock