Before things get out of hand and your dorm room becomes a disorganized clutter – am I too late – think LOFT and think organized. With student resident furniture from University Loft Company, organizing your belongings is a simple process.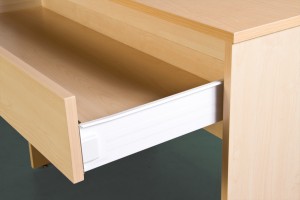 Our drawer chests and desk drawers make it easy to keep the muddle down. For one very good reason: full extension drawer glides! And they all come with four corner blocks and stretchers under the drawer for added bottom support. Top the drawer off with English dovetail joints for even more strength, and you have college furniture that will serve you for a long time. University Loft Company is known for our high quality durable products that last for years to come.
I understand that sometimes it's a temptation to throw everything you wear into the wardrobe, stuff a few more items you don't know what to do with until everything falls out when you open the doors. But just like any temptation, you can resist it. It's especially easy with wardrobes from University Loft. They are an excellent storage solution. The floating design of raised panel doors are solid wood and crafted to prevent warping. With drawers, shelves or a hanging rod, it's a closet to keep your belongings and can also become your desk unit or entertainment center. Any way you use the wardrobe, you can keep your items in order. Think LOFT and think organized and campus life will be much smoother.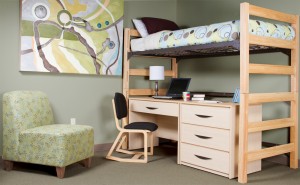 The ultimate in organization comes with the Open Loft bed. Lifted high enough to fit a desk and drawer chests beneath it, you can keep your room orderly with this space saving design. There are a gamut of ways utilize your space with LOFT university furniture.
There are so many ways to keep you're your room in order with student housing furniture from University Loft Company. Take a look at our catalogs and see the various styles to choose from. As you are looking around, think LOFT and think organized. We'd love to hear from you, so please contact us or give us a call at 800.423.LOFT (5638). We want your business and can ship orders at short notice.
University Loft Company is a leader in the furniture industry. We continually create innovative products that will enrich your lives. CEO and founder, James N. Jannetides, is the drive behind LOFT. His wisdom and vision is one to follow and has been a wellspring of encouragement and inspiration to many through the decades that University Loft Company has been around.
Until next time ~ Ginger Bock