University Loft Company puts ethics and quality first in all of the furniture we make. That is why we lead the way as a contract furniture manufacturer. Every piece of furniture has had time and care put into its production. Developing new and better furniture is what we do. We don't copy we create. That's why you can find much more than student housing furniture at University Loft Company. If you have an apartment complex or multi-family units, LOFT has off-campus housing and apartment furnishings that fit the bill for your complex or unit. We also have furniture for defense quarters. I'll tell you a little bit about all of them.
College Student Furniture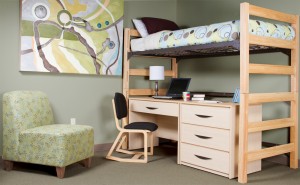 We have many series of university furniture perfect for the student's room and crafted to endure the long haul. For example, we like to refer to The Graduate Series as the tried and true series. No tests matches that of time, and this series as stood the test of time. It's solid wood. Manufactured from the powerful timber of the Hevea Brasiliensis tree. There are other series too, they come in metal and steel and wood blends. You can see a larger variety in our catalogs. The ease of these modulation makes Uloft college student furniture efficient. If your space it tight, you can stack it comfortably and get the most out of your room. Brilliance at its best from the Makers of Cool.
Apartment Furnishings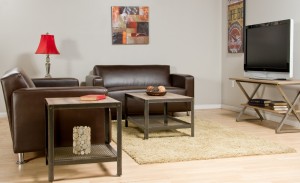 Whether you are furnishing a single lounge area or a whole unit, University Loft has the furniture you need. It's not only practical, it's aesthetic and will spice up the area you select for it. From sofas to dining room tables, from end tables to bunk beds, you can find what you need right here at University Loft Company. We have the same outstanding reputation with our apartment furnishings as we do with our college dorm furniture. It is durable, strong and long lasting. Check out our upholstered series too. There is an immense variety of fabrics to choose from. Cleaning it is a breeze too! Talk to one of our University Loft representatives to get more details.
If you are in or near Greenfield, Indiana, you can stop by and browse the store. If you are not in the area, you can shop online at http://varsityloftclub.com/.
Defense Quarters
The defense quarters furnishings are specially designed for the military. The state-of-art style brings warmth to the room and adds that home-away-from-home touch. We specialize in the Whole Room Concept. An area is not only furnished, but it is completed with televisions, wall art, bedspreads, rugs and lighting. Our GSA furniture blends steel, wood and laminate for strength. We love and appreciate those who serve in the military
and want to see them resting in comfortable, homey furniture from ULoft.
We don't copy we create, and the innovative ideas are a continual flow at University Loft Company. We're are always exited to see the next great furniture product that will be coming out. Whatever it is, our customers will benefit from it to the fullest.
Be sure to have a look at our catalogs. Do you have any questions? Don't hesitate to contact us or give us a call at 800.423.LOFT (5638). Your business is important to us and a skilled rep will be available to talk to you. We can also ship orders at short notice – no problem.
University Loft is about the people who trust us to furnish their living space. Founder and CEO, James N. Jannetides' continual drive and determination is the force behind University Loft Company. His example as an extreme visionary has been a wellspring of encouragement and inspiration to many.
Until next time ~ Ginger Bock