Sometimes our creativity and our dreams are stifled when we are overwhelmed with studies and workload. That's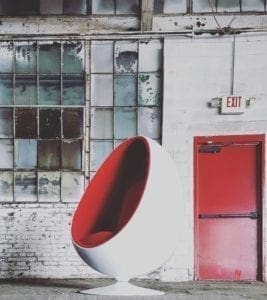 when it's important to take some time off and recharge. Relaxing in The Orbital will recharge your creative juices and bring back the dreams of your heart. Its deep seat and soft interior hug you as you slip inside – just what you need for innovative dreams to return.
When it comes to the room you return to after a day in classes, you can put your own signature on it and make it your own. With college furniture from University Loft Company, student rooms have endless possibilities.
Endless Possibilities? Here's How
Innovative student furniture begets innovative student rooms. University Loft college furniture is versatile. Take a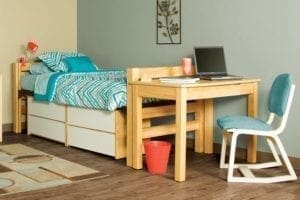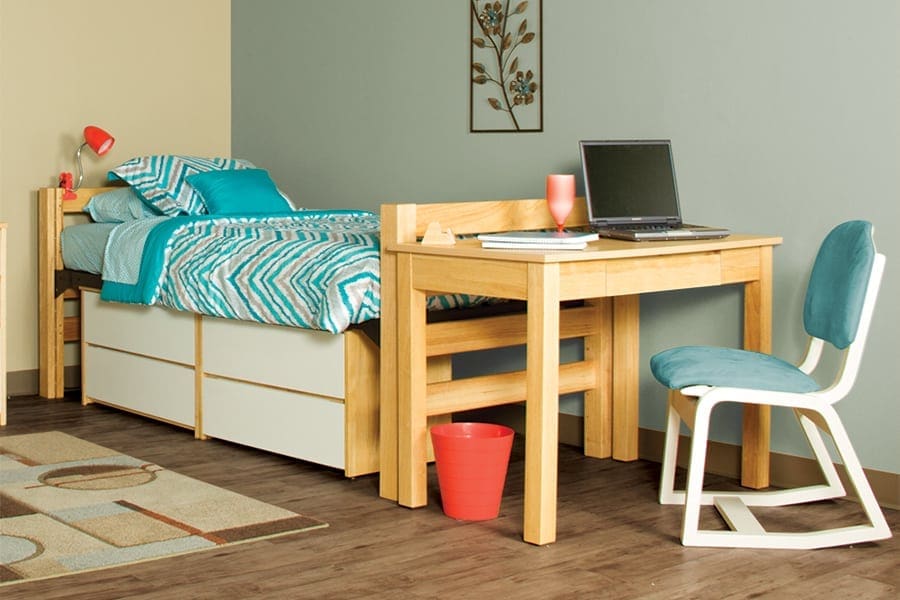 twin bed, raise it to a loft, put a desk and drawer chest under it, and you have a bedroom with a study area. No, wait, put an end table and loveseat under the loft – you have a bedroom and living room area. Then set your desk on the other side of the loft bed, and you have added a study area. Maybe you don't want your bed up so high. That's no problem, you can raise it up just enough to fit a couple of drawer chests under it. You can do so many things with University Loft student furniture. If you would like to change your bed from low to medium to high, well, The Makers of Cool have made that possible with their Tool-Less System™. You don't need tools. The modular furniture can be reconfigured in several different patterns. If you want to change things up, ULC has made it easy. Drawer chests stack, so if you choose to leave the bed at standard height, you can stack your chests to also increase floor space. Add a wardrobe for extra storage. Move them around,
stack them, turn them, change things around. Be creative!
University Loft furniture is built to last using features such as corner blocks, English dovetail joints, and full-extension drawer glides.
To learn more about the Makers of Cool and the furniture we build, you can browse our catalogs.  To discuss your furniture options with a representative or have your questions answered, you can contact us here or give us a call at 800-423-LOFT (5638). We want your business. If you need something quickly, ask about our Quick Ship Program.
As founder and CEO, James N. Jannetides says, "We're committed to producing top-quality furniture that provides the best overall value." As a leader in the contract furniture industry, we strive to offer the best. That is what University Loft Company is all about.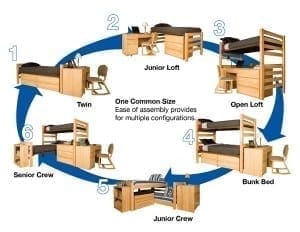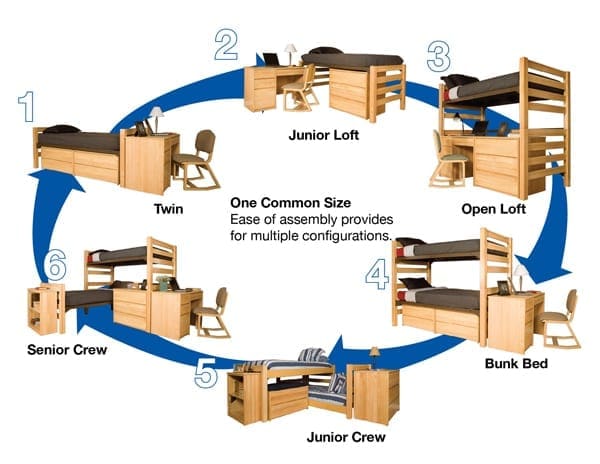 Until next time ~ Ginger Bock
University Loft is growing and we're looking for good workers to hire. If you are interested or know anybody who would like to enjoy the experience and relationship of being a part of this growing contract furniture company, contact us here or call 800.423-LOFT (5638).