Seasons. They are inevitable. Some are waited upon with great anticipation while others are dreaded. In certain parts of the world, each season is distinctly different from the other. Some people prefer snow and cold while some love the heat of summer. Others can't wait until the temperatures cool, and the leaves on the trees change to warm colors with the autumn season. Which season do you favor? People have preferences and favorites. University Loft Company understands that people also have preferences with furniture. That's why we have so many styles from which to choose. So when selecting furniture what is your preference? Solid wood or wood and steel blend?
Let's take a look at a couple of the series that University Loft carries.
The Graduate Series
This classic furniture series is made of solid wood and built from Environmentally Farmed Timber, also known as Hevea Brasiliensis. These trees grow rapidly and serve many purposes useful to mankind and the world around us. Not only is it good for the environment, but it has also been tested and proven to be stronger than Northern Red Oak. The tops are made from high-pressure laminate. This series is in for the long haul.
Add to or mix and match pieces. From a pedestal desk, a night stand, drawer chests, wardrobes to the ever-famous Two-Position Chair (and much more). Just take a quick look at the furniture pieces we have.
The Graduate Series has been tried and proven to be true.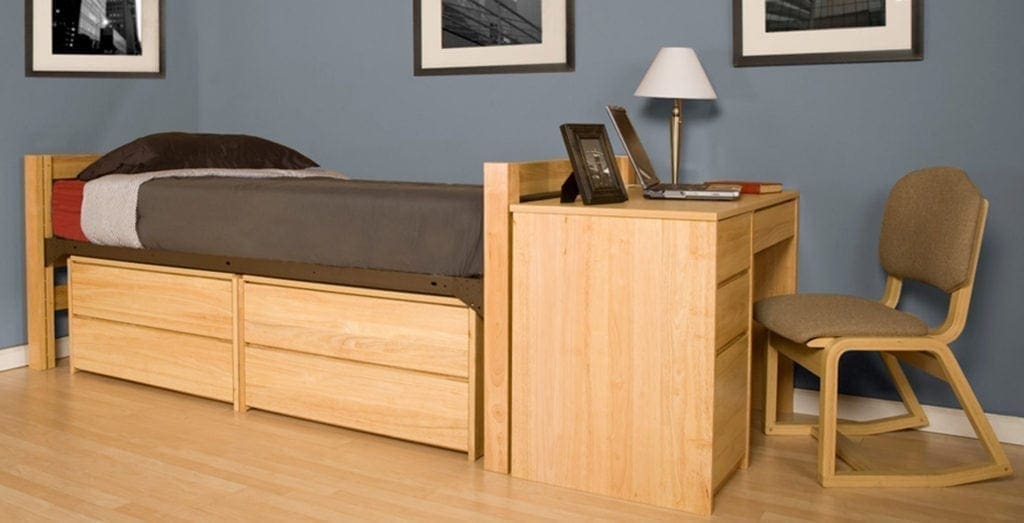 The Uptown Series
This clean, stylish series is perfect for complexes, developments, defense quarters and universities' on and off-campus housing. Created for durability and long life, you can bring any room up-to-date with furniture from the Uptown Series. If you like the warmth of wood mingled with cool steel, you will love the selection you get from The Uptown Series.
The Uptown Series also offers an array of fabrics and finishes to best match the rooms you're furnishing.
Like all of our furniture, it is designed to help save space and add storage. It reconfigures easily with our Tool-Less System™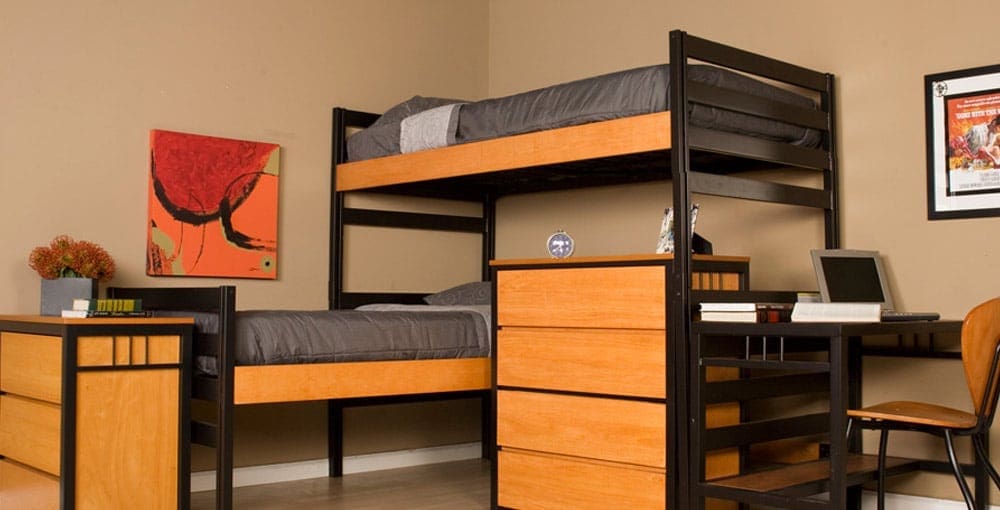 You can see more of the furniture in these two series in our catalogs. There you can also view the other lines of University Loft furniture. If you have any questions, contact us or give us a call at 800.423.LOFT (5638). A qualified University Loft representative is ready to answer your questions and give you details on the products. We want your business and are ready to ship orders at short notice.
University Loft Company wants your furniture buying experience to be satisfying. We are committed to producing top-quality furniture that provides the best value to you. We are innovators manufacturing products to improve student residence furniture, off-campus and military housing, apartment furnishing and multi-family unit housing. Founder and CEO, James N. Jannetides is the creative force behind University Loft Company. His vision for loft beds was only the beginning of the accomplishments done in contract furniture through this company.
Until next time ~ Ginger Bock