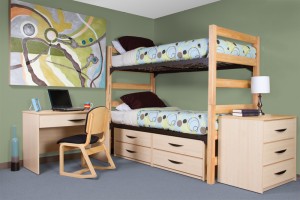 Getting a tattoo is a pretty big commitment. Since you will be living with it for a long time, you want to make the right choice. Have you ever seen someone donning a tattoo that is misspelled? Like the one that says "No Ragrets." I suppose eventually, there will be some regrets. And when it comes to university furniture, there should never be any regrets. The decision to furnish your student residence is important and one that you will live with for a long time. That's why making your selection from University Loft Company is the right choice in student housing. Because we raise the standard in our design of college furniture, and the research and development behind all of our products (which also includes apartment furnishings and military and off-campus housing), you are getting furniture that has not been compromised for a lower standard.
For example, our loft beds are crafted for safety. The distance between spreader rails is small enough that a 3.5" x 6.2" block cannot pass through it. It is also large enough that a 9" sphere can pass through it. The post offers greater surface-to-surface contact, which makes it stronger.
We build drawer boxes for chests and desks with English dovetail joints. They also include full-extension drawer glides – you can reach to the back without breaking your arm or the drawer falling out! In addition to using English dovetail joints, we also build them with corner blocks and Mortise and Tenon joint frames. University Loft Company crafts furniture to last from generation-to-generation. You can count on our high quality college furniture to be strong, durable and long lasting. That is what makes us the right choice in student housing.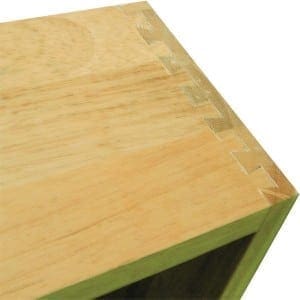 So when you are considering furnishing your student residence hall; consider the difference that will be made by selecting University Loft Company as your contract furniture provider. Take your time and browse our catalogs. You will see our large number of styles and series from which to choose. You may have a question or two, so please contact us or give us a call at 800.423.LOFT (5638). A qualified Uloft representative will be ready to answer any of your questions. We want your business and are ready to ship orders on short notice. Let us know what you need today.
Founder and CEO, James N. Jannetides says, "We are a company with ethics. Integrity is more than a word. We manufacture furniture the right way." As a leader in the furniture industry, University Loft is honored to live by a high standard of ethics. We continue to bring innovative ideas for university furniture, off-campus housing, apartment furnishings and military housing.
Until next time ~ Ginger Bock