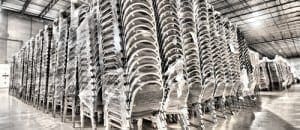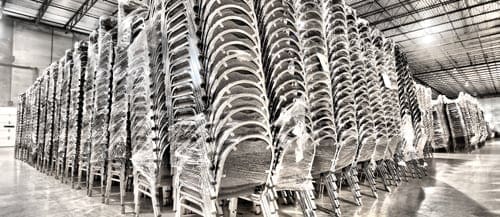 You've got the square footage to handle a large crowd, but you just don't have enough seating. And because your special event floor space is multi-purpose, you don't want to tie it up by having chairs that take up space when not in use. What can you do? Don't feel overwhelmed. Don't get mad. Don't blow your stack. Simply check out the always convenient stack chairs from University Loft Company.
Because you can stack and store these sturdy chairs when not in use, you can preserve your valuable floor space for events that don't require seating – like trade shows, dances, etc. – without having chairs in the way. And because you can stack 'em high when in storage, the overall "footprint" of University Loft stack chairs is quite small indeed.
Better yet, ULoft stack chairs come in several styles, too. You can choose from solid wood, steel frame and folding varieties. Many even have padded seats and backs for hours of comfort in a conference setting. So relax! No matter your space, function or seating needs, University Loft has a stack chair style perfect for your institution.
Ready to learn more about University Loft stack chairs or to place an order? Contact us today.
Bob
The ULoft Blog Team
About University Loft Company and our solid wood modular residence life furniture:
Since 1984, when James Jannetides built a loft configuration for his own dorm room at Southern Illinois University, hundreds of thousands of college students have enjoyed better campus living thanks to University Loft furniture. Today, University Loft serves more than 1,200 colleges, universities and related student housing partners. As Jannetides' says: "We are always learning, always innovating, and always improving … our environment, our products, and our service. We are University Loft Company."