Have you had a chance to notice that the pastel colors of this season are in full bloom? Spring flowers are blossoming and trees are bursting with new buds. As you walk outside, pleasant fragrances waft your way. Freshness and newness is all around us. With fields turning green once again in my part of the world, I'm reminded of one of University Loft's very special series. Let's talk about The Greenfield Series.
Durability and Strength
University Loft Company raises the bar in college dorm furniture with the engineered wood casegood construction used in The Greenfield Series. The high-pressure laminate tops and PVC edge banding can take extra tough wear and tear that often accompanies student residents' daily life. But that's not all. Our metal drawer boxes include seriously strong slides that are integrated in it. All-in-all, this is a powerful series, built University Loft strong.
Space Saving to Increase Storage
Just like all of our college furniture, reconfiguring it is easy with our Tool-Less System™. If you need more room or need to change the room around, you can do so in simple steps. Space planning and space saving is a priority when you have a small space in which to live. Why be cramped when ULC made it easy to raise a twin bed up a few feet to make room for drawer chests under the bed? Raise the bed up even higher and you can fit a desk, drawer chest or even a comfy chair beneath. With University Loft and The Greenfield Series you can create boundless formations.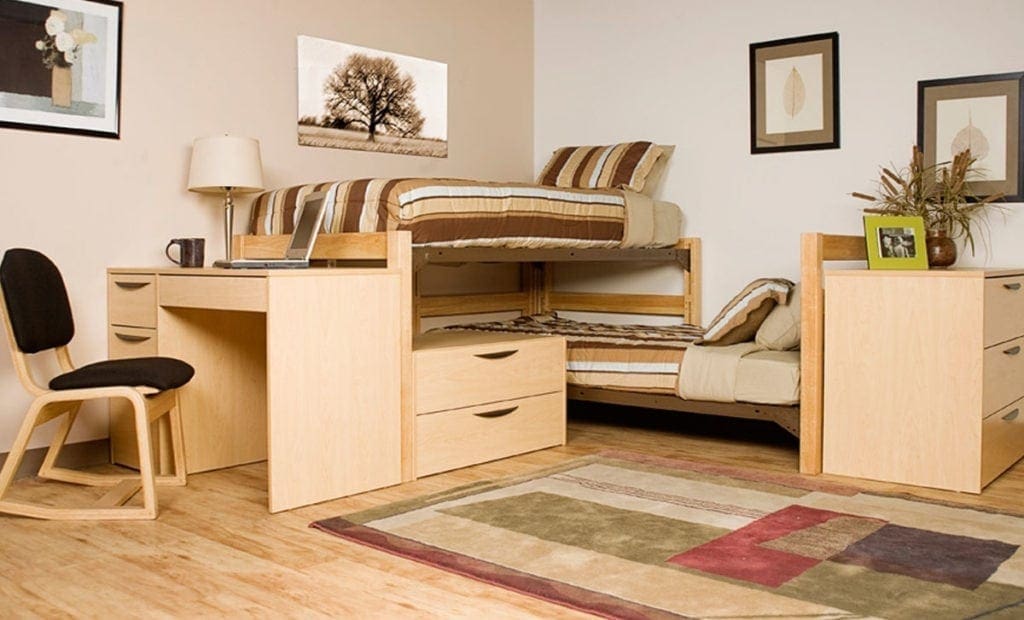 A Classic Look that Never Goes Out of Style
The Greenfield Series has a timeless look that is sure to please for years to come. It fits in to all types of rooms and homes. This series looks good wherever you place it.
The versatility of The Greenfield Series makes it a practical choice in university furniture. You can see it by going to our catalog section. You can also view our other series and products while you are there. If you find something you like or have questions, you can contact us, or give us at 1.800.423.LOFT (5638). A skilled University Loft representative will be available to help you. We'd love to have your business. If you need something quick, that's not a problem for us. We can ship orders at short notice. We are sure that University Loft Company has something for you.
Did you know that University Loft Company is a leader in the furniture industry? We continue to create innovative furniture that will benefit campus life from loft beds to wardrobes, from Two-Position Chairs to desk chairs. Founder and CEO, James N. Jannetides' continual drive and determination is the force behind University Loft Company. His example as an extreme visionary has been a wellspring of encouragement and inspiration to many. Thank you for choosing University Loft Company as your contract furniture provider.
Until next time ~ Ginger Bock