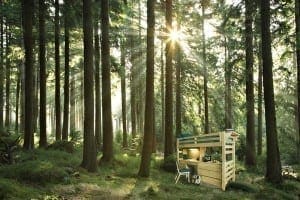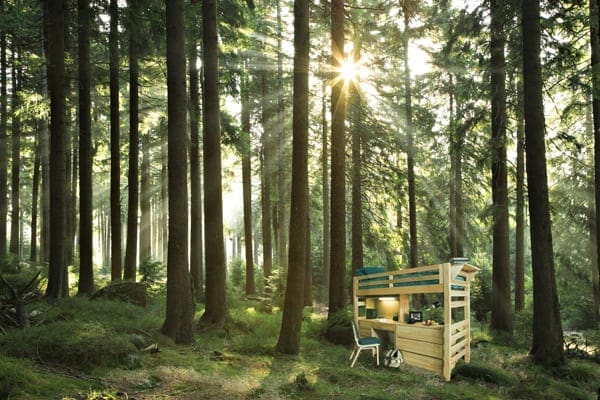 I saw an online article recently about one of University Loft's student furniture clients: Cornell University in Ithaca, New York. It seems that Cornell has installed live turf – grass, that is – inside two libraries and two science buildings on campus. Why? According to School Administrator Eveline Ferretti, "Being in touch with nature helps people be calmer, and they feel refreshed and productive." At University Loft Company, we couldn't agree more. But we do feel compelled to remind the fine folks at Cornell, and in the 1,000+ other colleges and universities we serve, that with ULoft furniture on campus in residence hall dorm rooms, students are already surrounded by green.
You see, University Loft dorm room furniture is the environmentally responsible choice for residence life furnishings. Our student furniture – including bunk beds, desks, dressers, chairs and more – are solid wood and made from Environmentally Farmed Timber, or EFT. We chose this type of hardwood because it grows faster than oak, meaning we can harvest and replant much quicker, ultimately using less land than those manufacturers that still use the weaker and less environmentally friendly oak in their student furniture.
So students across America and around the globe don't really have to go far to bask in green. With University Loft, it's right in their dorm rooms. And if you're at Cornell University, it's also beneath your feet in the library!
Bob
The ULoft Blog Team
About University Loft Company and our solid wood modular residence life furniture:
Since 1984, when James Jannetides built a loft configuration for his own dorm room at Southern Illinois University, hundreds of thousands of college students have enjoyed better campus living thanks to University Loft furniture. Today, University Loft serves more than 1,200 colleges, universities and related student housing partners. As Jannetides' says: "We are always learning, always innovating, and always improving … our environment, our products, and our service. We are University Loft Company."