Maybe you know that University Loft Company continues to be a pioneer in university housing and college dorm room solutions. Maybe you know that ULoft has been around a long time – more than 25 years now! And maybe you know that we're a good steward of the environment , committed to building the highest quality "green" student furniture. But there's a lot more to know about today's University Loft, so here are some fast facts:
ULoft was founded in 1986 by James Jannetides, who built his first custom student housing furniture as a student at Southern Illinois University
University Loft is American-owned and our products are crafted with care in America
We serve more than 1,200 colleges and universities across North America and around the globe
Our headquarters in Greenfield, Indiana is a 508,000 square foot facility that includes our corporate offices, manufacturing and distribution plant, and a one-of-a-kind 58,000 square foot furniture showroom
ULoft's mobile showroom can bring University Loft college furniture samples to your door!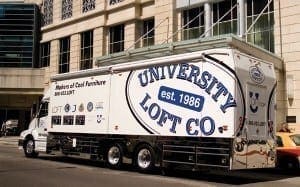 University Loft has an additional production and distribution facility located in Morristown, Tennessee
ULoft products are manufactured from solid Environmentally Farmed Timber (EFT), a special type of fast-growing, multiple-use Malaysian hardwood that's stronger than Northern Red Oak
University Loft products for the university housing market are available in a variety of finishes and fabrics; and certain products use replaceable Velcro® upholstery
We have a team of dedicated representatives helping schools like yours make their on-campus housing environments

on-campus housing environments

more comfortable and functional places to live and learn
Obviously, there's a lot more you can learn about University Loft Company (stay tuned to this blog or give us a call!), but the most important thing to know is that we work hard to stay on the leading edge to deliver the best in university housing furniture solutions. We're always learning, always innovating, and always improving our products to serve YOU better.
Bob
The ULoft Blog Team
About University Loft Company and our solid wood modular residence life furniture:
Since 1984, when James Jannetides built a loft configuration for his own dorm room at Southern Illinois University, hundreds of thousands of college students have enjoyed better campus living thanks to University Loft furniture. Today, University Loft serves more than 1,200 colleges, universities and related student housing partners. As Jannetides' says: "We are always learning, always innovating, and always improving … our environment, our products, and our service. We are University Loft Company."