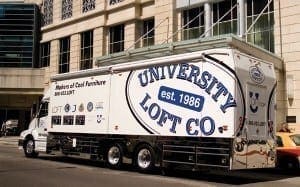 University residence life has enough drama, so aren't you glad you've got University Loft's college student furniture in your dorm room? After all, if you've lived with University Loft dorm room furniture for any time at all, you know that it makes your on-campus life a little easier, right? If you haven't yet been fortunate enough to live with University Loft furniture in your residence hall, here's what I mean:
University Loft Furniture Makes You Feel More Comfortable
One aspect of comfort is feeling safe and secure. Because University Loft student furniture is built from stronger-than-Oak hardwood – an Environmentally Farmed Timber called Hevea Brasiliensis – you know it can stand up to residence life. And with things like oversized bed posts, and English Dovetail joints and corner blocks in desk and dresser frames, you can feel secure that University Loft college furniture won't let you down.
University Loft Furniture Makes You More Productive
From our full-extension drawer glides keeping your learning essentials in easy reach to our swing-out mouse supports to our stury and ergonomic Two-Position Chair, you can get more done in the dorm room.
University Loft Furniture Makes Your Space More… Spacious!
And let's not forget that University Loft college furniture is modular so it can be configured in dozens of space-saving ways. More space means less stress, right?
All in all, being more comfortable and more productive in your more spacious dorm room means less drama. So are the days of your residence life. Thank you, University Loft for your college student furniture!
To learn more about University Loft furniture for college dorm rooms, click here or contact us today at 800-423-LOFT (5638).
Bob
The ULoft Blog Team
About University Loft Company and our solid wood modular residence life furniture:
Since 1984, when James Jannetides built a loft configuration for his own dorm room at Southern Illinois University, hundreds of thousands of college students have enjoyed better campus living thanks to University Loft furniture. Today, University Loft serves more than 1,200 colleges, universities and related student housing partners with superior college furniture. As Jannetides' says: "We are always learning, always innovating, and always improving … our environment, our products, and our service. We are University Loft Company."