It won't be long before the residence halls will be filling up with excited young ones participating in summer camp. It's something children anticipate because it's fun. They make new friends, learn new activities, and experience new adventures at summer camp. What makes it an even sweeter experience, especially for parents, is knowing that their children are resting firmly; that the beds in which they sleep have passed the standard safety tests. Though camp is supposed to be a fun time, there are many factors that come into play to keep children protected. University Loft has made sure that the beds we construct pass all safety tests and secure for your children to sleep. That's why beds from University Loft are the right choice for summer camp.
Here are the reasons …
Our beds are manufactured with user safety at the vanguard. University Loft Company has taken great care to meet all the consumer safety regulations and are certified by the Consumer Product Safety Commission. You see, the bed post does not extend past the slats. This prevents possible strangulation concerns. Our 4-slat bed end design keeps children from getting their head stuck between the slats. Additionally, ULC offers full guardrails with the beds to ease any fears of a child falling. Main concerns such as choking and tumbling from the bed are put at ease because of the extra safety measures University Loft Company has taken when manufacturing our beds. When the end of a long day at summer camp comes, parents and counselors can rest assured that the children are safe in a University Loft bed.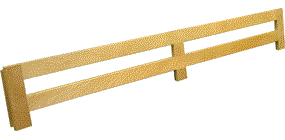 To learn more about our bunk beds, check out our catalogs. If you see something you like or have some questions, you can contact us here or give us a call at 800-423-LOFT (5638). A skilled Uloft representative is ready to help you. We'd love your business, and we can ship orders at short notice.

University Loft Company wants your furniture buying experience to be satisfying. We are committed to producing top-quality furniture that provides the best value to you. We are innovators manufacturing products to improve student residence furniture, off-campus and military housing, apartment and new development furnishing and multi-family unit housing. Founder and CEO, James N. Jannetides is the creative force behind University Loft Company. His vision for loft beds was only the beginning of the accomplishments done in contract furniture through this company.
Until next time ~ Ginger Bock
Special thanks to Logan Heinrich, Regional Sales Manager for Illinois, Indiana, Michigan, Ohio, Wisconsin for his help in providing the content of this blog.
University Loft is growing and we're looking for good workers to hire. If you are interested or know anybody who would like to enjoy the experience and relationship of being a part of this growing contract furniture company, contact us here or call 800.423-LOFT (5638).